Presented by Signature Partner

Day After the Funeral
A watercolour painting by iconic American painter Edward Hopper joins the AGO Collection. 
---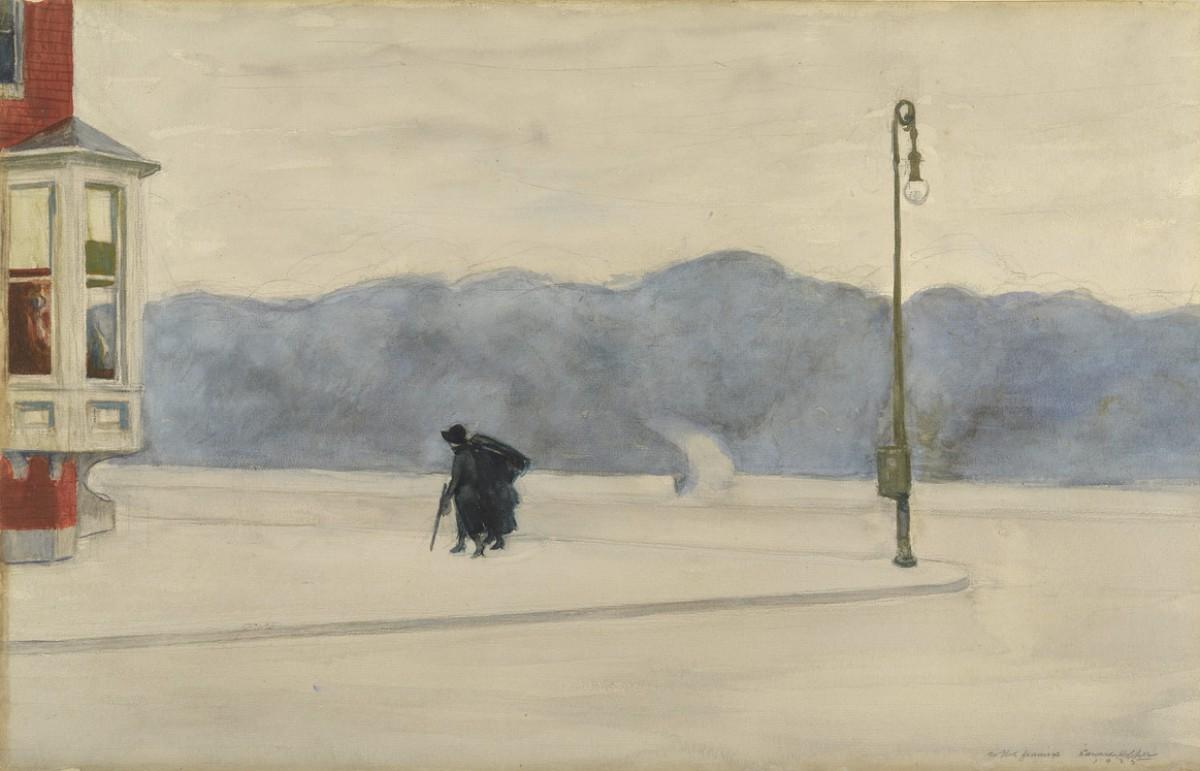 Edward Hopper. Day After the Funeral, 1925. watercolour, graphite on paper, Sheet: 32.5 × 50.6 cm (12 13/16 × 19 15/16 in.). Art Gallery of Ontario. Gift of Ash K. Prakash, 2022. 2022/17
A watercolour painting by one of the most important American artists of the 20th century is now part of the AGO Collection. Realist painter Edward Hopper is best known for his depictions of isolated figures in urban environments, like the evening dinner scene featured in his iconic 1942 work, Nighthawks. Although most of his famous works are oil paintings, Hopper was also a prolific watercolourist, as seen in Day After the Funeral – the artist's 1925 ode to a lost friend.        
Currently on view on Level 1 of the AGO in the Esther & Arthur Gelber Treasury (gallery 142), Day After the Funeral features two figures dressed in black, huddled together, walking down an empty street on what appears to be a cold, windy day. To the right of the pair is a lone streetlight at the corner of an intersection, and to their left, is the wood-framed bay window of a residential home. Unlike the majority of Hopper's works, this 32.5 cm x 50.6 cm watercolour directly references a personal event experienced by the artist. On January 8, 1925 his friend and fellow artist, George Bellows, died suddenly due to a ruptured appendix. The sombre energy captured in Day After the Funeral directly reflects Hopper's feelings in relation to the tragic day.      
Born in 1882 in Nyack, New York, Edward Hopper had a knack for the arts at a young age, beginning to draw regularly at 5, and completing his first oil painting at 13. Showing significant promise, Hopper studied at the New York School of Art and Design under renowned painters and teachers William Merritt Chase and Robert Henri. After completing his degree, Hopper worked for various ad agencies as an illustrator to pay the bills while taking periodic trips to Europe to continue to study painting.  Attempting to find his artistic voice and succeed professionally, Hopper continued to create realist works of urban American life in watercolour, oil paint and etching for roughly the next two decades.
In 1923, Hopper met his wife-to-be Josephine Nivison, marking a major turning point in his journey as a painter. The two managed Hopper's career as a team, allowing him to begin exhibiting works at major museums and receiving critical acclaim. His profile continued to grow throughout the 1930s with major acquisitions by the Whitney Museum of American Art and the Metropolitan Museum of Art in New York. By the 1940s, Hopper was an internationally recognized artist creating his most iconic works, including Nighthawks (1942) and Hotel Lobby (1943).
Upon entering the AGO Collection, Day After the Funeral became the only known drawing or watercolour by Edward Hopper in Canada. See it now on Level 1 of the AGO by the Marvin Gelber Print & Drawing Study Centre entrance in the Esther & Arthur Gelber Treasury (gallery 142).