Presented by Signature Partner

Saint Dominic of Guzmán
We focus on 18th-century painter José Campeche and his depiction of the patron saint of astronomers.
---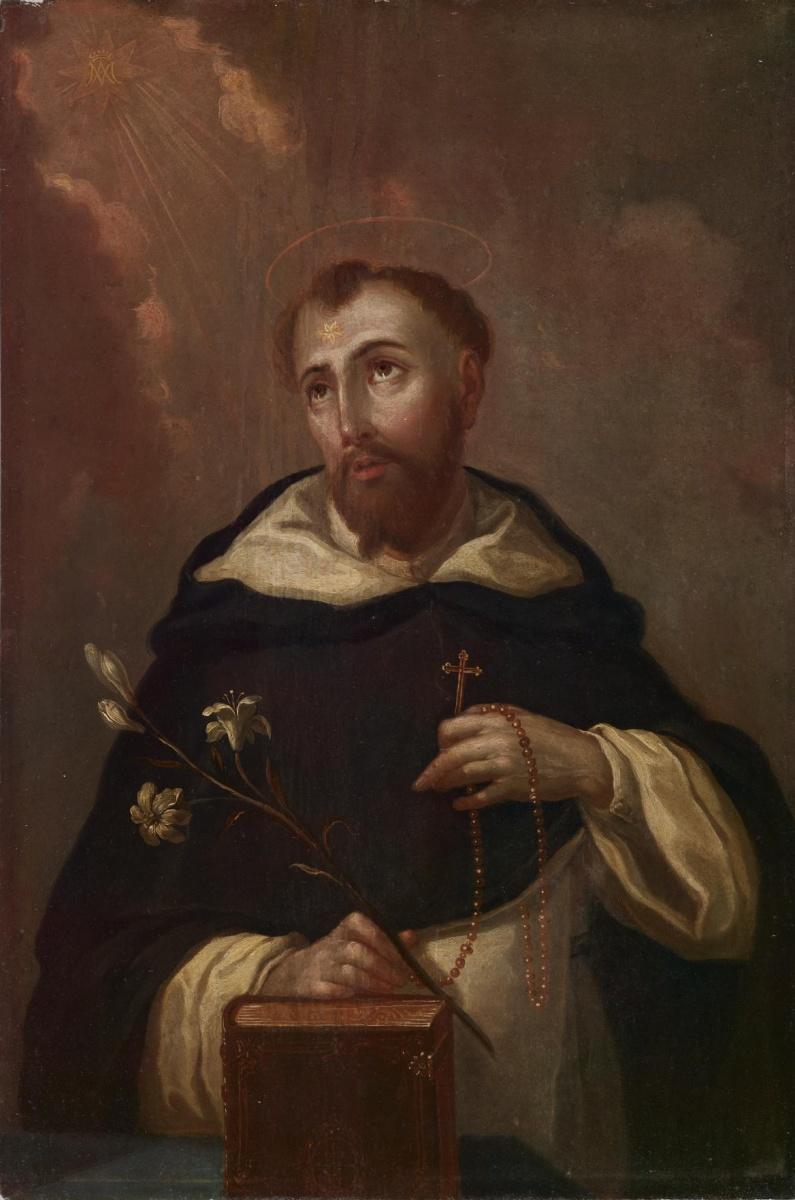 José Campeche, Saint Dominic of Guzmán, around 1790s. Oil on wood. Purchase, with funds by exchange from the Ludwig Mond Estate, Miss L. Aileen Larkin, and the Family of W.R. Brock, 2021. © Art Gallery of Ontario. 2020/130
Faith and Fortune: Art Across the Global Spanish Empire [closed at the AGO in October 2022] has given visitors an exclusive chance to critically study the mechanics of colonization by examining the visual culture of the Spanish Empire. The exhibition contains a broad spectrum of artworks and artifacts from the Philippines to Puerto Rico, covering four centuries. Among them is a treasured work from the AGO Collection, Saint Dominic of Guzmán, by 18th-century Puerto Rican artist José Campeche – the most sought-after painter on the island during the era. 
This 43 x 28 cm oil-on-panel painting depicts Saint Dominic, the patron saint of astronomers, wearing the white and black robes of his mendicant order. His right hand rests on a Bible while holding a stem of white lilies; his left hand contains a Catholic crucifix and is draped in a rosary. Set in an outdoor setting, the clouds above Saint Dominic's head part, revealing beams of angelic light shining from a star marked with a symbol of the Virgin.  
José Campeche was born in San Juan, Puerto Rico in 1751. He was the son of Tomás Campeche, a formerly-enslaved gilder-painter, and María Jordán y Marqués, an immigrant from the Canary Islands. Campeche became one of the most renowned and sought-after painters in Puerto Rico. He was often commissioned to paint portraits of the wealthy elite, including Governor Ramón de Castro and María de los Dolores Gutiérrez del Mazo y Pérez. Campeche was a devout patron of the island's religious institutions, as exemplified in his extensive catalogue of religious works, including Saint Dominic of Guzmán.    
Campeche's choice to depict Saint Dominic is a fitting homage to the region, as he played an integral role in Dominican history. Along with being attributed for inventing the rosary, Saint Dominic founded the mendicant Order of Preachers, or Dominicans, often called the Black Friars. He was an instrumental figure in the Spanish colonization of the Caribbean and still remains the namesake of the Dominican Republic's capital city, Santo Domingo.      
"José Campeche's Saint Dominic of Guzmán is a fantastic example of the many captivating and historic art pieces on display at Faith and Fortune: Art Across the Global Spanish Empire," says Shannon Cole, VP, Brand Marketing at RBC. "As a long-standing supporter of the arts, RBC is proud to align with this expansive collection, the largest exhibition we've sponsored to date, which allows visitors to more deeply understand the complexities of the Spanish Empire's colonial legacy and its impact."