The ethos of blackpowerbarbie
The Toronto-born, New York-based animator shares her success story.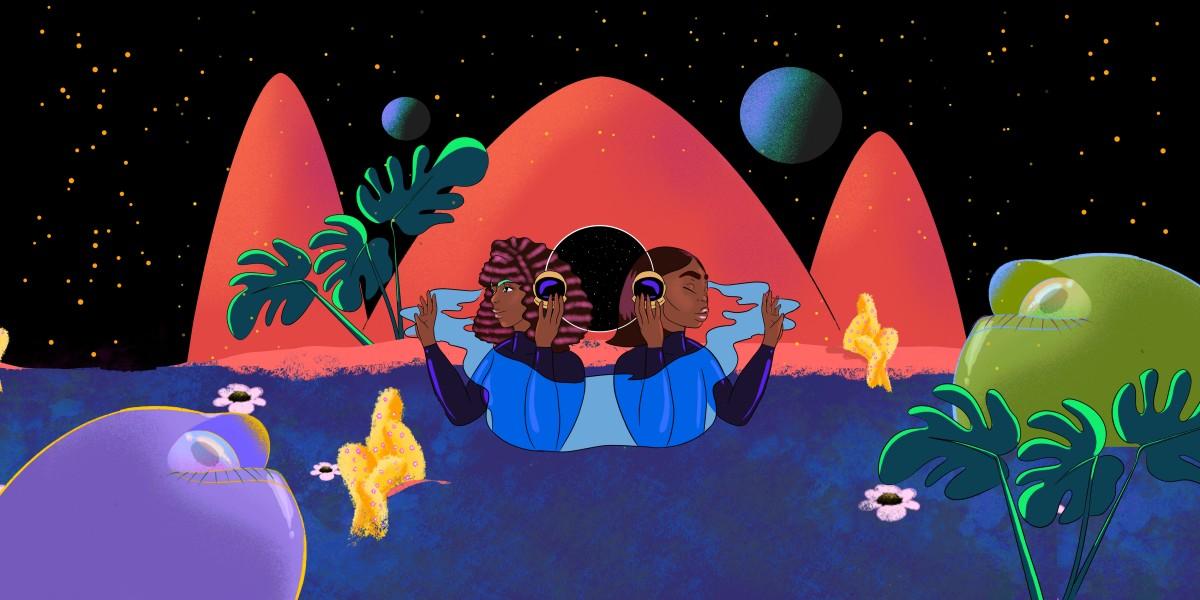 Image courtesy of blackpowerbarbie
blackpowerbarbie (Amika Cooper) never tried her hand at animation until her second year of university, and in the decade since, she has become a major force in her industry. Cooper's distinct style of 2D animation centers Black, femme and queer experiences, and is defined by her use of vibrant colour and cosmic aesthetics. From collaborations with brands like Apple, to creating visual content for The Roots frontman Black Thought, blackpowerbarbie continues to carve out her space as a highly sought-after animator on a global scale. 
We recently caught up with the Toronto-born, New York-based artist to learn more about her career path and the ethos of her powerful animation practice.         
Foyer: What is the inception story of blackpowerbarbie? When did you begin your journey with illustration and animation? Is there a moment you can recall when you really started to envision a career for yourself in this space? 
Cooper: I've always been a person who was drawn to expressing myself creatively. For most of my youth and young adulthood I found the most comfort in performing art. Singing and acting were therapeutic outlets that made navigating the world easier for me. I wasn't introduced to animation until my second year of university when I met digital media professor Kris Alexander who really nurtured and supported my interest in storytelling. I found a new sense of freedom in creating still and animated images and really fell in love with crafting my own worlds. It was freeing for me from a practical sense too because I didn't have to rely on the collaborative effort that was theatrical acting and music. I never really took visual art seriously before because I was held back by perfectionism. After that one animation unit in university I got excited about learning more than I was scared about not being exceptional and became pretty much self taught as an illustrator and animator. I don't know if there was an exact moment when I realized it could be a career, but I figured if we're surrounded by art and other people's creative ideas—why not mine as well? 
Foyer: Your illustration and animation work is punctuated by such vibrant colours that often feel cosmic or even psychedelic. How would you describe your approach to colour as an artist?   
Cooper: To be quite honest, I didn't realize how prominent colour was in my pieces until it became a constant observation about my work. For me, my thoughts about colour when I'm creating are very instinctual and emotional. I would guess it's just how I see the world and the quality I'm the most drawn to. I love how it makes us feel, and the information it relays subconsciously. So in my work, it's how I might convey the intensity of an emotion, how I might convey a feeling of time or how I might position a piece in fantasy vs. reality. 
Foyer: Blackpowerbarbie is an impactful name that carries an important political statement. How would you describe the ethos of your art practice? 
Cooper: The name is tongue in cheek, to be honest. It's playful but subverts an image of femininity that is very traditional, pristine, and white. The people in my art are not that. The ethos of my art centers around Black, femme and queer experiences. My art seeks to represent dark, vibrant, bodies that are not often centred in art/media spaces. The name is strong, but my art is about empowerment through tenderness. It's about reclaiming darkness or blackness through tenderness, beauty, and vulnerability. It's about reclaiming "Barbie" and, by extension, femininity, through honesty and diversity. As such, for me, the "blackpower" part of it all is about inclusivity and a rejection of the status quo.
Foyer: You've collaborated with a broad range of brands, artists and companies. Is there a particular project you've worked on that carries a special significance for you? 
Cooper: I'm very proud of my Black History Month 2023 project with Apple. I was saying earlier that the image of Barbie is very pristine and white which are also two words that probably come to mind when you think about Apple. My experience in creating that body of work was one of genuine creative control and being able to share my images of Black joy all over their platforms, and in store. To be trusted wholly as a creator is my goal walking into any collaboration. Without that trust you're just being tokenized. That project showed me what was possible for people like me and where we can go just by being ourselves and I'm hoping this is an energy I can sustain throughout my career.