In between the lines
Q&A with illustrator Michael Martchenko, famous for his work with children's author Robert Munsch.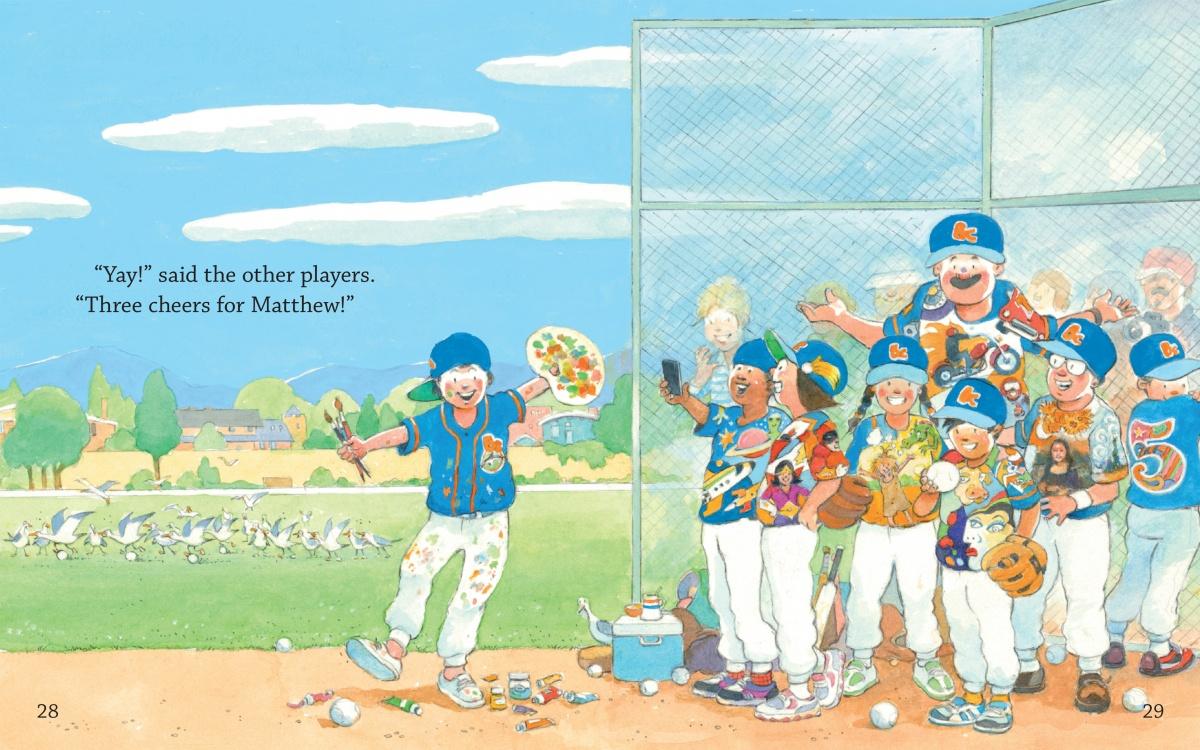 Illustration © 2020 by Michael Martchenko from Teamwork, text © 2020 Bob Munsch Enterprises Ltd. Published by Scholastic Canada Ltd.
The Paper Bag Princess may have been Michael Martchenko's first project as a children's book illustrator but it certainly wasn't his last. Forty years and seven million copies later, the resounding success of the much-beloved princess-and-dragon adventure story influenced generations of children and effectively launched his career as an award-winning illustrator in the genre. Martchenko has since illustrated more than 100 books, many written by Robert Munsch and others by Allen Morgan, another frequent collaborator of his. Mortimer (1983), Thomas' Snowsuit (1985), Murmel, Murmel, Murmel (1989), Stephanie's Ponytail (1996) and Moose! (2011) are just a few Munsch classics brought to life by Martchenko's distinctive illustrations. 
Over the years, Marchenko has even dabbled with bringing his own stories to life; authoring and illustrating children's books such as Birdfeeder Banquet in 1990 and Ma, I'm a Farmer in 2003. We spoke to the Canadian illustrator about how he got his start, creative process and the magic behind decades-long collaborations.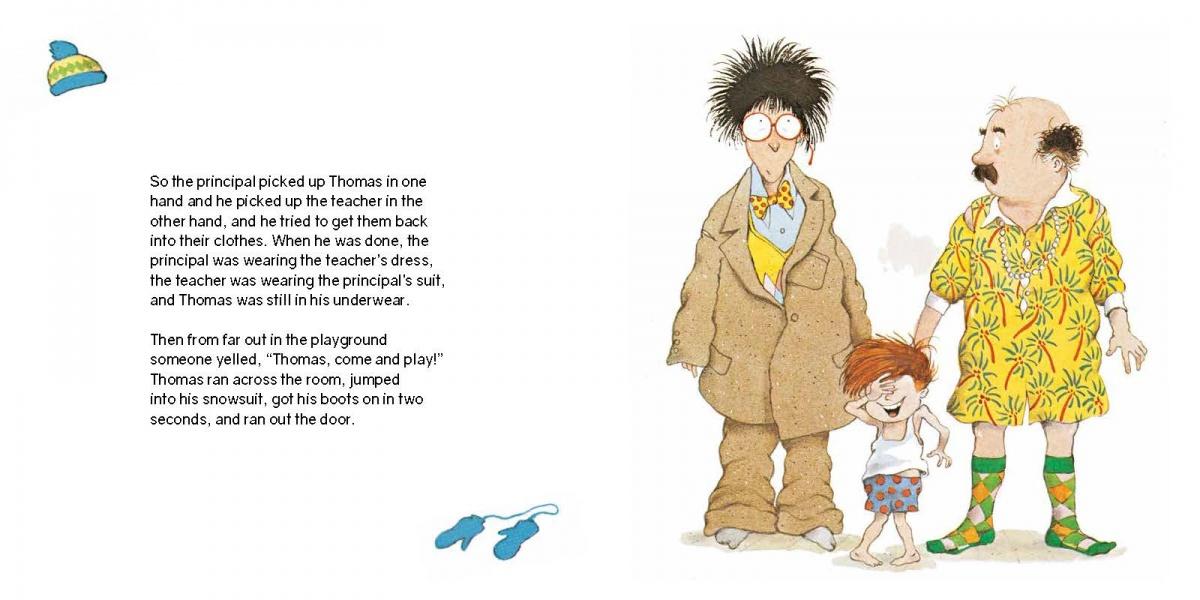 Illustration © 1985 by Michael Martchenko from Thomas' Snowsuit, text © 1985 Bob Munsch Enterprises Ltd. Published by Scholastic Canada Ltd.
Foyer: You have famously worked in partnership with author Robert Munsch since the early 1980s. You've also illustrated the Matthew and the Midnight series by Allen Morgan. In your opinion, what makes a creative partnership work and stand the test of time?
Martchenko: I think that respecting each other's talents and experience, plus good communication can go a long way to creating a positive work relationship. You need to be on the same page creatively and share the same desire to produce the best books that you can. Robert Munsch and Allen Morgan's stories are funny, zany, and at times, a little crazy – so I fit right in. My type of visual humour, which at times can be a little crazy also, seems to complement their stories. Being able to exchange ideas is important as well. I can suggest changes to copy and they can make suggestions to illustrations. If it improves the story, we're all okay with that. We like one another, we get along and egos don't get in the way. It's worked for all these years and still does.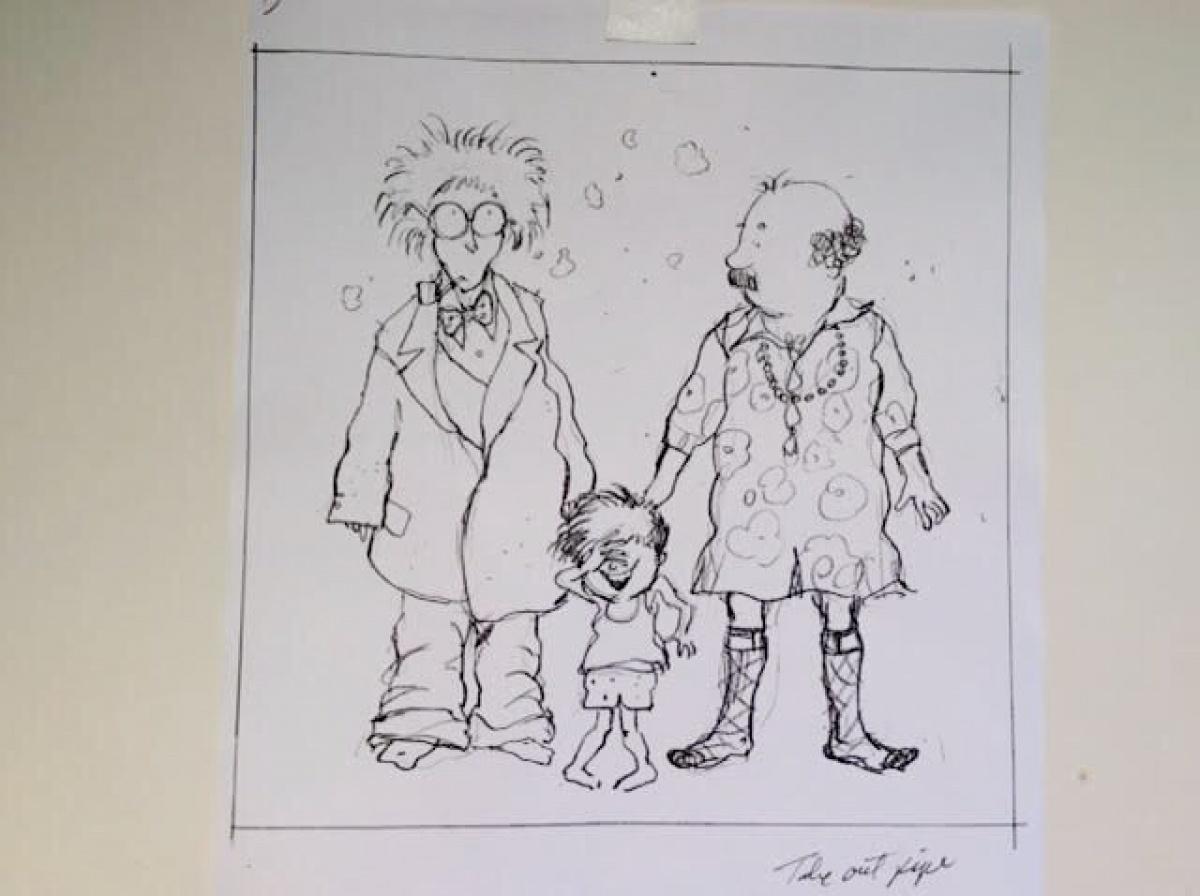 Thomas' Snowsuit Sketch. Image courtesy of Michael Martchenko.
Foyer: The Paper Bag Princess is often credited as the first time you illustrated a children's picture book. Do you think you would have pursued illustrating children's books if Munsch had not approached you? What has kept you creatively motivated to keep working within the genre? 
Martchenko: No, I don't think that I would have pursued illustrating children's books if Robert Munsch and Annick Press [a Toronto-based independent children's publisher] had not approached me. At the time, I was the creative director of an advertising company. Children's books were the furthest thing from my mind. I was asked by Annick Press if I would be interested in illustrating The Paper Bag Princess after Robert Munsch had seen and liked the style of one of my illustrations in an art show. I was dubious at first about doing a 'children's book' until I read the script and loved it! The success of The Paper Bag Princess led to many more books. I found that I was really enjoying the freedom that I was given to create the characters, settings and situations in the story. It was challenging, stimulating and a welcomed change, emotionally and creatively, from the restrictions that I had to deal with in the business world.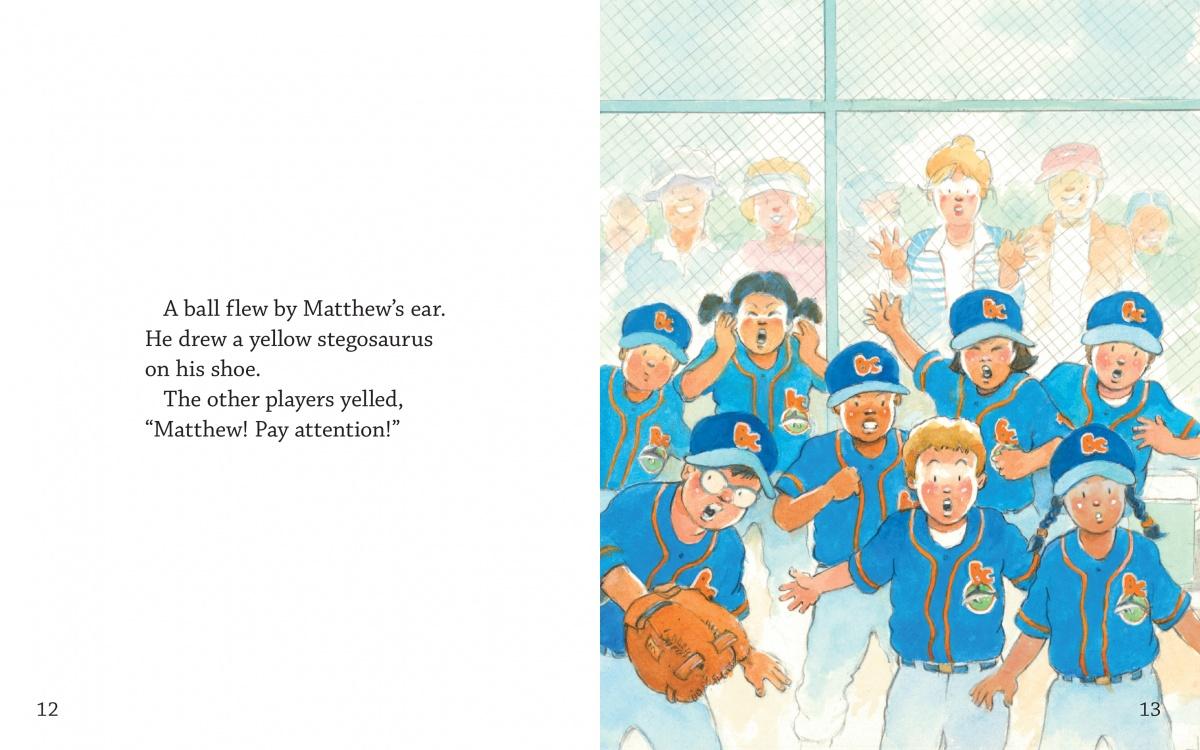 Illustration © 2020 by Michael Martchenko from Teamwork, text © 2020 Bob Munsch Enterprises Ltd. Published by Scholastic Canada Ltd.
Foyer: You've authored and illustrated your own children's books: Birdfeeder Banquet and Ma, I'm a Farmer. What surprised you the most about the process of bringing your own stories to life on the page? 
Martchenko: I was surprised that the publisher asked me to write my own story. The second surprise was that writing for children is not as easy as it might seem. Trying to write a good story with interesting characters and situations can create a lot of wasted paper. After a few false starts, I discovered that writing about familiar things was a good road to follow. Birdfeeder Banquet was inspired by my memories of my family's backyard bird feeder. Living on a farm as a child was very helpful in writing Look Ma, I'm a Farmer. I visualized different situations as I wrote them. It was pointed out to me, however, that I was writing too much copy. I was describing things that could be better depicted in illustrations. Lesson learned! The experience was new, challenging, fun, a lot of work, but very satisfying. This was especially true when I received the first printed copies. I must confess, however, that I still prefer to illustrate someone else's story.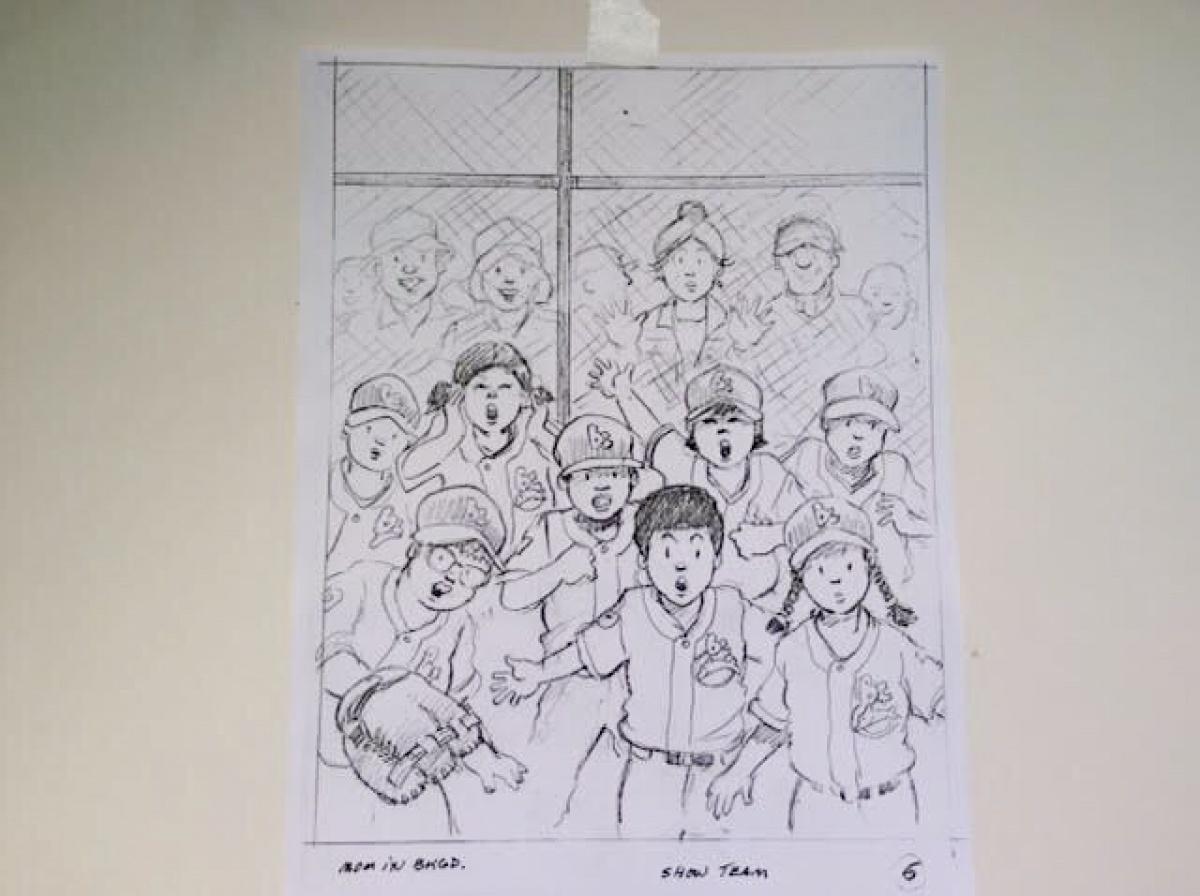 Teamwork Sketch. Image courtesy of Michael Martchenko.
Foyer: Illustration has developed vastly over the past few decades, especially with advancements in computer technology and digital illustration. How much has your creative process changed or remained the same in light of these advancements? What about your creative process is still "traditional" and what is "contemporary"?
Martchenko: I am still a 'traditionalist'. It's the way I was trained and the way I prefer to work. My medium is pencil, watercolour and gauche for illustration and acrylic for other projects. I get a lot of satisfaction from the hands-on feeling of drawing on board, adding colour and doing the finishing touches. Computers are wonderful tools that produce very creative, exciting work. I'm a big fan of CGI animation and I truly admire the talented artists that produce such dynamic work for print and film. My only nod to being 'contemporary' however, is my relationship with my own computer and phone. I wouldn't be without them, but their role is as an aid to my work. Information, communication, meetings and access to photo references. I believe that my illustrations have evolved, but my techniques remain the same. 
Foyer: Throughout your career, which project sticks out as being the most memorable and why?
Martchenko: I've been involved with many projects, both in children's books and aviation art. Many stand out, but number one has to be The Paper Bag Princess by Robert Munsch. That little princess and the dragon have changed my life. That book introduced me to a new field. Suddenly, I was part of a whole new genre of illustration. I had the pleasure of meeting and working with lots of great people, authors, artists, publishers, librarians and children from across Canada and parts of the U.S. Shortly after, I decided to make children's books a full-time career. I was filling out some official form, and when I came to the question, 'Profession?' I was able to write 'Illustrator' for the first time. That had been my goal in life from the first day that I stepped into the halls of the Ontario College of Art and Design in Toronto as a young, eager art student.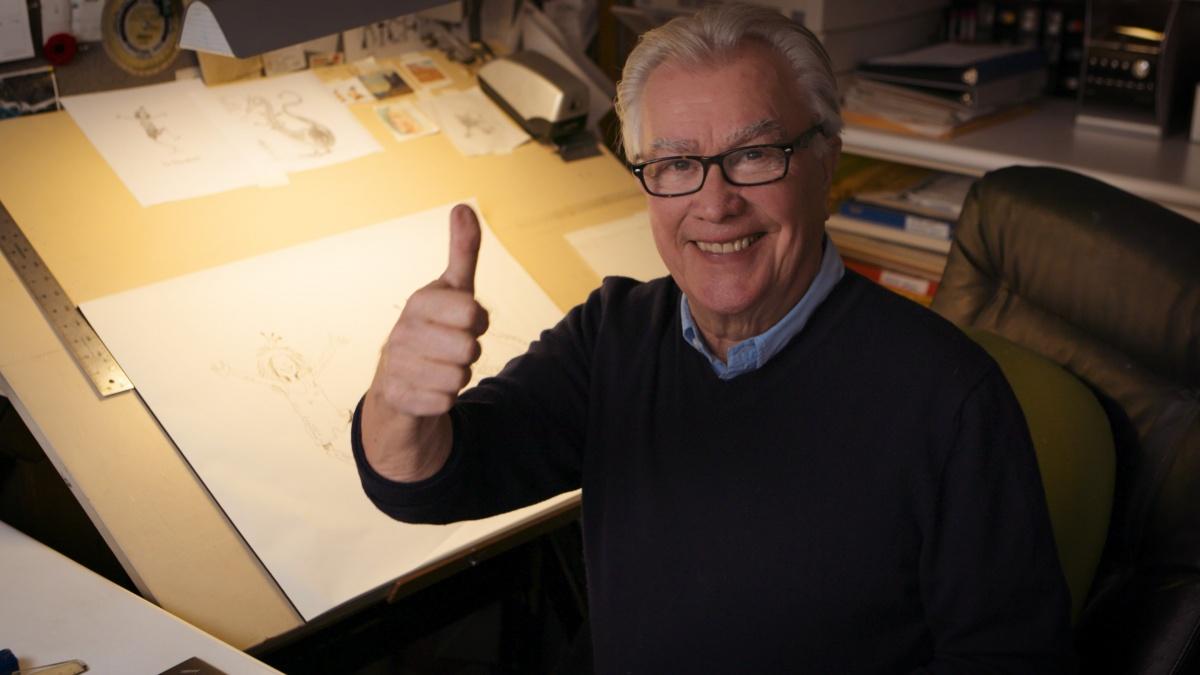 Michael Martchenko. Image by Chockablock Media.