Drawn with Pride
Vivian Rosas talks about honouring the resiliency of Toronto's 2SLGBTQ+ communities.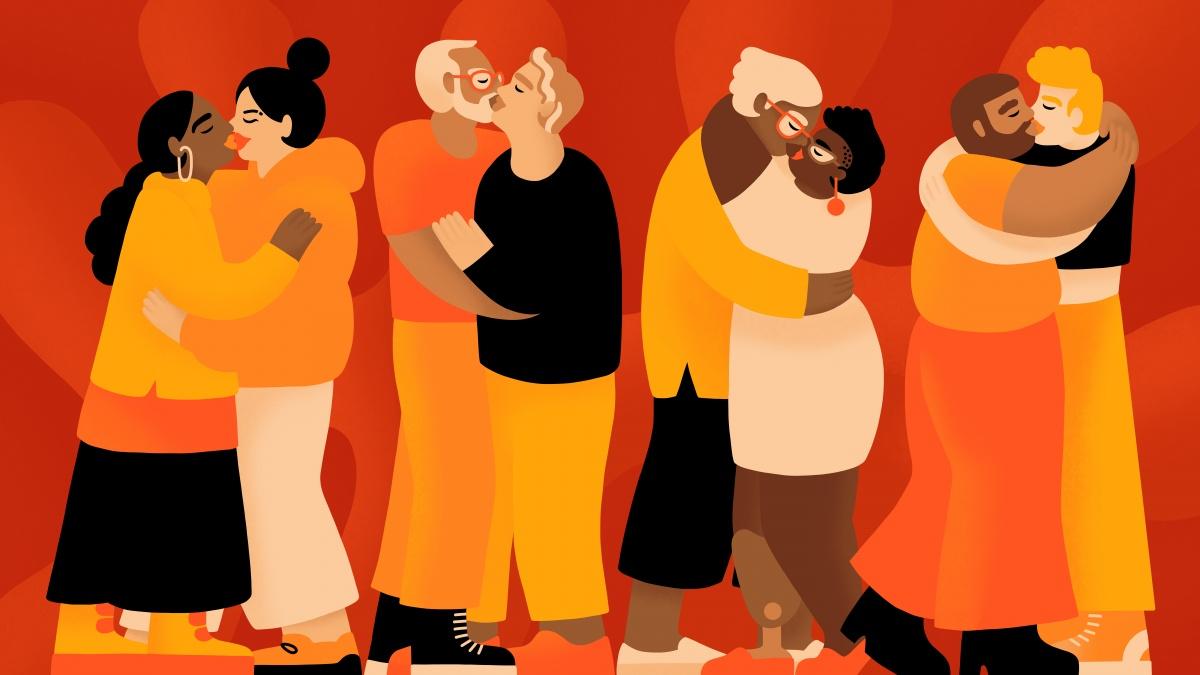 Image courtesy of Vivian Rosas.
How do you illustrate Pride? For Vivian Rosas, one of six Toronto-based 2SLGBTQ+ multidisciplinary artists commissioned to create illustrations for the 2021 Pride Guide, the answer is to be as inclusive as possible. We caught up with Rosas to learn more about her artful approach to Pride and the Toronto history that inspired her works. 
Foyer: How did your style as an illustrator develop; and do your experiences of being queer and Mestizx/Latinx inform your work?
Rosas: My illustrative style has gone through so many shifts since I began. I actually had a hard time at first finding the right voice for my work. For so long, my style lacked a uniqueness I knew I could tap into but hadn't figured out yet. Growing up Mestizx/Latinx, I didn't see a lot of BIPOC in mainstream art and culture, let alone Latinx, which made me yearn for a sense of belonging and recognition. As a result, I started to create work that I could see myself in. I became drawn to depicting underrepresented folks and quickly, representation and empowerment became the voice my work needed. Being queer is also a part of that. It drives me to create images that folks can feel seen by and find joy in. These experiences inspire the energy and movement of shapes and figures, as well as the brightness and boldness of the colours I choose to work with. My style isn't a fixed thing either. I'm constantly growing and changing as a person, so why wouldn't my illustrative style do the same? Taking risks, and trying new techniques is all part of my creative process.
Foyer: How did you receive this commission from Pride Toronto, and what were the first steps in your creative process?
Rosas: I found out that Pride Toronto had put out an open call to queer digital artists and literally threw together an application that day and sent it in. I was thrilled when I found out I had been one of six artists chosen to contribute. I started by brushing up on my knowledge of Toronto's Queer and Trans history. I spent a lot of time reading and looking for inspiration for the pieces. Once I landed on some inspiration, I took to my tablet to start sketching out ideas and compositions that worked within the specific dimensions we were asked to work with. I ended up creating three different pieces because I just got too excited and couldn't choose just one.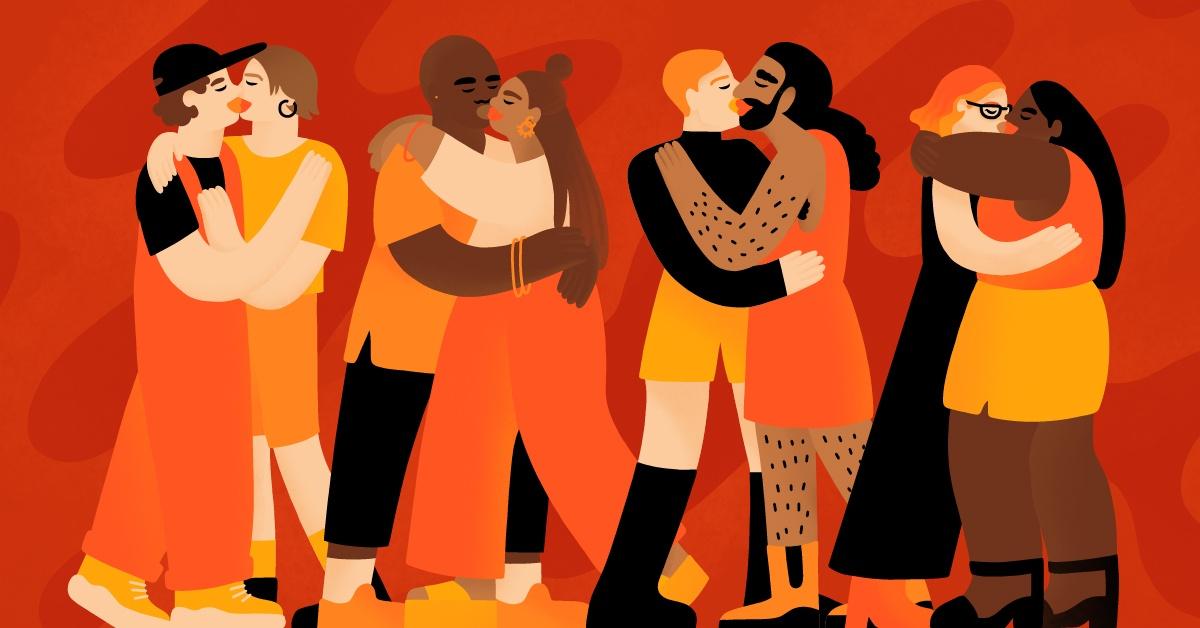 Image courtesy of Vivian Rosas.
Foyer: You've explained previously that the 1976 "kiss-in" protest staged by The Body Politic in downtown Toronto inspired two illustrations in this series. Why did you choose to share this particular story through your art and update it with contemporary representations of Toronto's 2SLGBTQ+ communities?
Rosas: Back in 2019, my friend and photographer Jocelyn Reynolds exhibited a photo project that explored 2SLGBTQ+ spaces in Toronto then and now. One of her photos was of a friend holding up the iconic Gerald Hannon photo of six men kissing from the 1976 "kiss-in" at the Yonge and Bloor intersection where it was originally taken. Viewing this image and taking in the deep history and noting the societal shifts that have taken place between then and now was what inspired me. Again, representation is so key to my work, so seeing this radical image of a lineup of men kissing really inspired me. Re-envisioning it now with contemporary representations of the 2SLGBTQ+ community just felt natural to me. As someone who identifies as Bisexual, it felt like a beautiful opportunity to dismantle the concept of "passing" in the community as well. I wanted to show what a different combination of lovers across the spectrum looks like today whether you're Gay, Lesbian, Trans, Bisexual, Pansexual, Two-Spirit, Non-binary or Gender Nonconforming.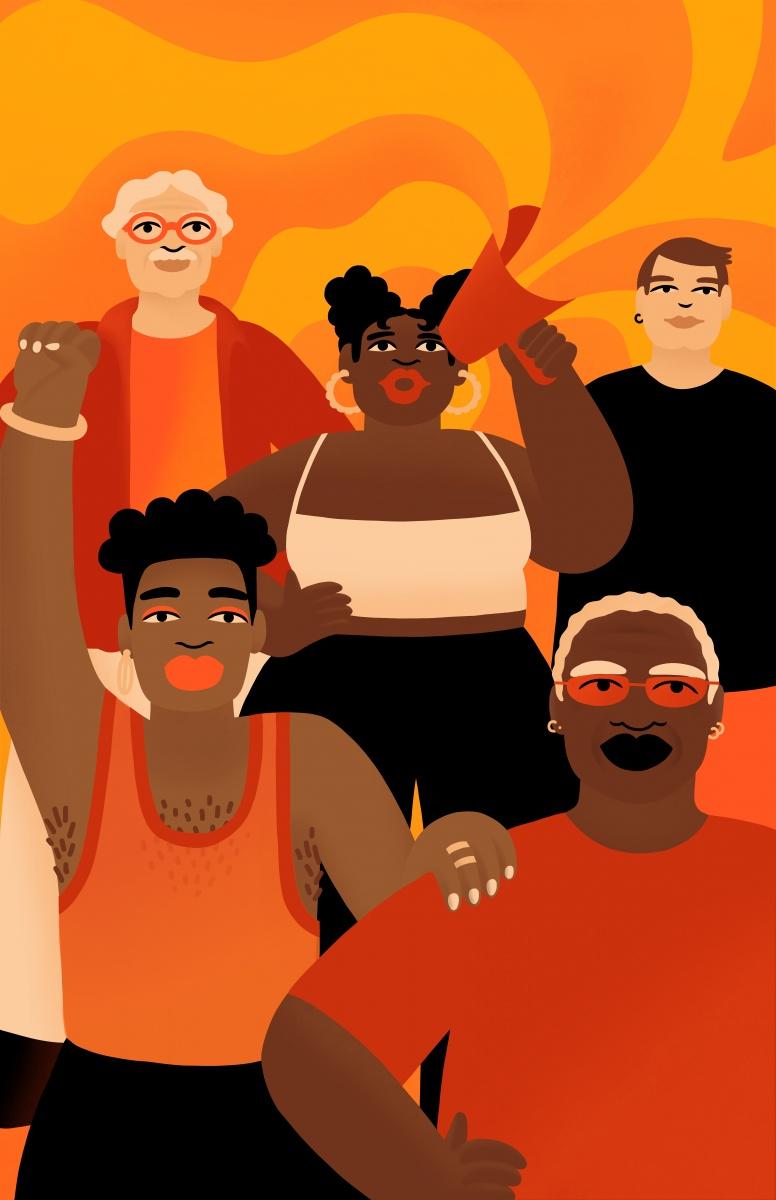 Image courtesy of Vivian Rosas.
Foyer: Protesting against the injustices towards queer and trans communities has always been a part of Pride's identity. You've depicted that in one of your illustrations and placed Black and Brown individuals at the forefront. What is the underlying significance of this?
Rosas: With this piece, I specifically wanted to pay homage to the important legacy of the Black and Brown trans women and Black queer femmes who have been and continue to be on the frontlines fighting for 2SLGBTQ+ rights. It felt important to pay my respects and to show them in their power and strength. Again, to bring it back to representation, I wanted to create an image that folks could see themselves in, see their ancestors in, and see that they're not alone, but fighting together with other folks for a better future.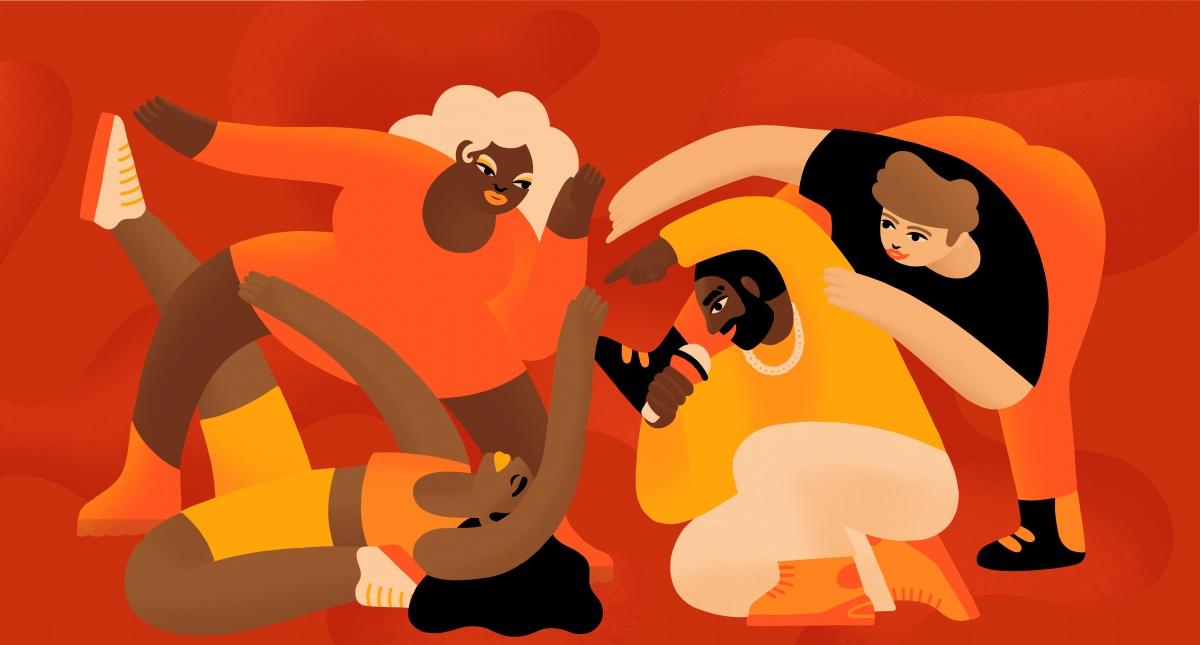 Image courtesy of Vivian Rosas.
Foyer: In addition to being an illustrator, you are also a dancer with ties to Toronto's Ballroom scene. One of the illustrations seems to reference Vogueing and Ballroom culture. How did your experiences as a dancer influence this illustration?
Rosas: Yes, this illustration is a full-on love letter to Toronto's Ballroom scene. The energy and vibrancy of the scene are just so special. It's a community where 2SLGBTQ+ folks find a chosen family, feel seen, and find the freedom of creative self-expression. Learning to Vogue over the years has brought me a sense of embodiment like no other dance style has ever given me. I feel such a connection to it, deep in my bones, tracing back its deep historical roots in Black and Brown queer culture. As a dancer, the flow, shapes, the poses all speak to me and I just really wanted to interpret that energy visually in this piece.
Foyer: What has been the response so far to your illustrations as part of Pride Toronto 2021?
Rosas: The response has been so positive, I feel so grateful. I've had folks reach out and share how much they love the work and how much it resonates with them. It really drives me to keep creating this kind of work!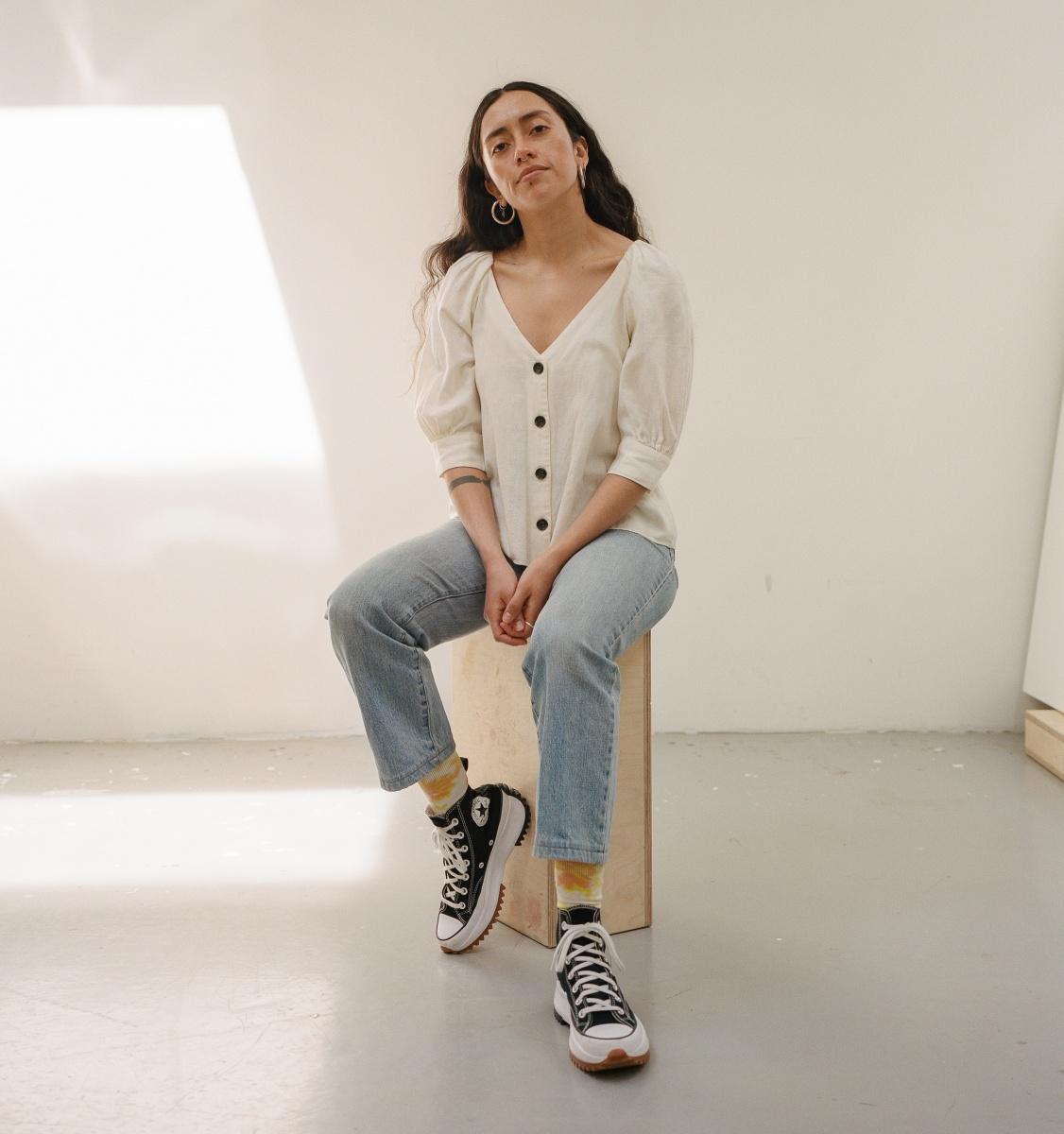 Vivian Rosas. Photo by Nicholas Pittman.
Follow Vivian on Instagram @vivanrosas and on her website. To find out more about the illustrators also featured in the 2021 Pride Festival, check out the work of Brian Jiang, Eric Kostiuk Williams, Jenelle Lewis, Mitch Duncan, and Roza Nozari.