The shape of identity
Luke Swinson talks re-claiming his Indigenous ancestry through art and his debut book.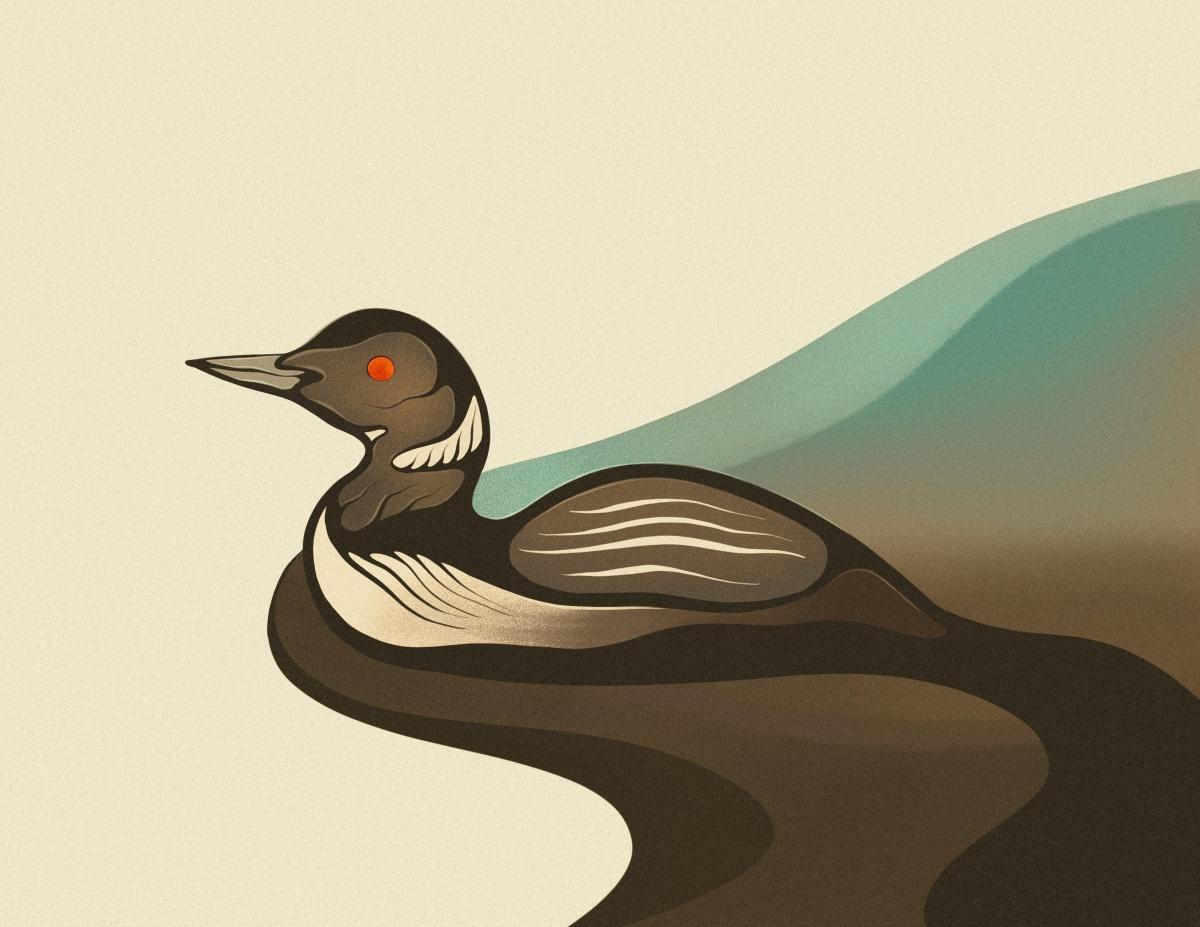 Maang-Loon © 2020 by Luke Swinson.
Luke Swinson's profile as an artist has been steadily growing in recent years. Take for example his first book, Treaty Words: For As Long As the Rivers Flow. Written by Aimée Craft and published by Annick Press early in 2021, this children's non-fiction book is thoughtfully written to educate young readers about treaties, while emphasizing the importance of responsibility and reciprocity. Swinson's richly coloured illustrations illuminate Aimée Craft's poetic retelling of spoken and unspoken agreements from an Indigenous perspective. 
For Swinson, creative expression goes hand-in-hand with the shape of his identity. Drawing from his Anishinaabe roots as the foundation of his work, Swinson is a member of the Mississaugas of Scugog Island First Nation and lives in Kitchener-Waterloo, Ontario. Raised in the digital age and influenced by his father (a graphic designer), Swinson's artistic output is currently twofold: digital illustration and public art. Residents from the Kitchener-Waterloo area may recognize his distinctive murals of animals that adorn Gaukel Street in the city's downtown core. 
Continuing with our series on illustrators, Foyer spoke to Swinson to dive into his creative process and future artistic ambitions.  
Foyer: Your illustrations are primarily digital. How would you describe your aesthetic and artistic influences?
Swinson: I was introduced to computer-based art at a young age by my Dad, August, who is a graphic designer. I always liked the ease of expression with computers and quickly realized that I preferred this over traditional media. There are a lot of creatives in my family and I feel that my aesthetic has been curated through these relationships. I've always admired the art of Anishinaabe artists Norval Morrisseau and Roy Thomas; the movement of their lines and their use of colour is present in my work. The way they express their culture and selves through art has been a major source of inspiration to me.
A lot of my free time is spent outdoors. Much of my illustration work reflects the southern Ontario landscape and my relationship to the natural world.
Dualities in my life have also shaped who I am as an artist. For instance, being mixed Indigenous, living in an urban environment while feeling a connection to nature, and practicing digital and traditional art.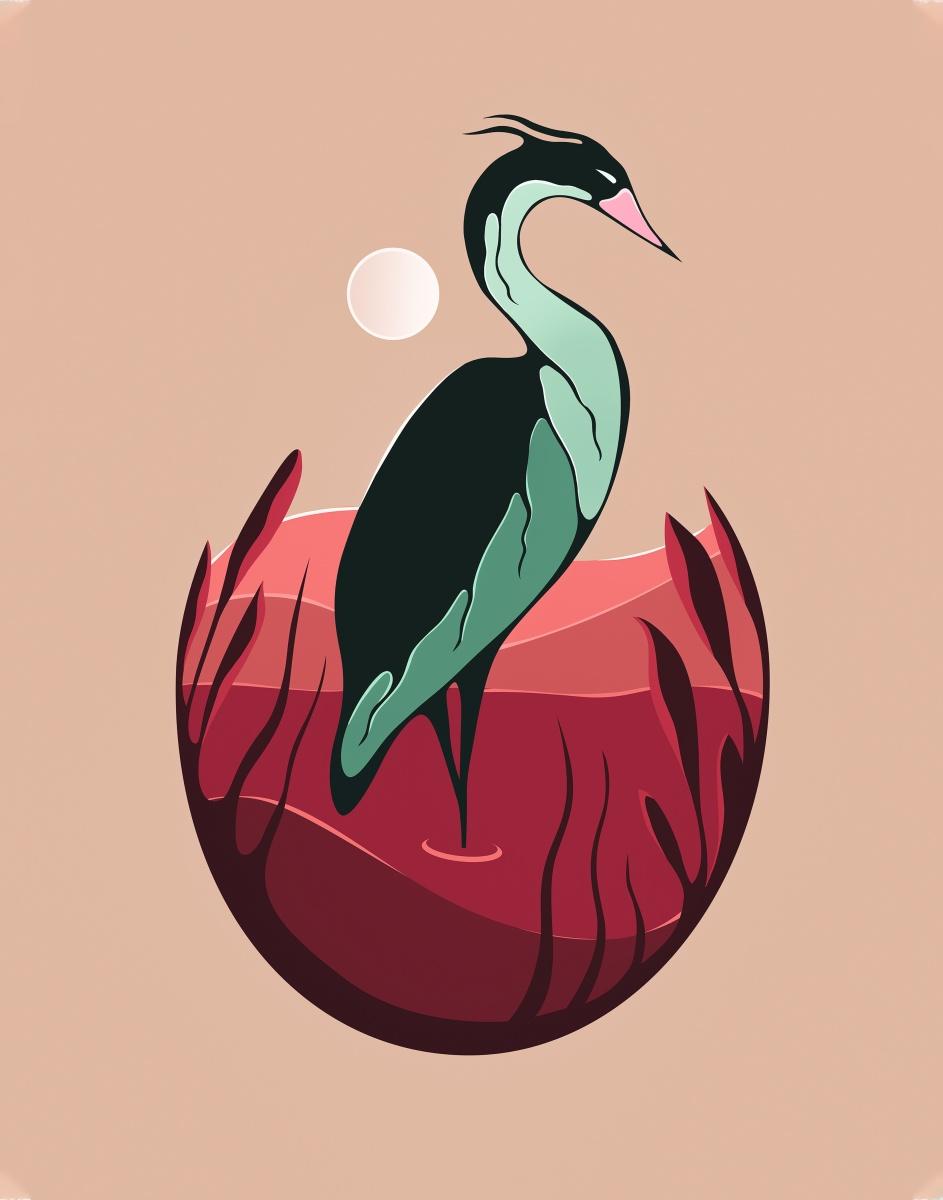 Zhashagi-Heron © 2020 by Luke Swinson.
Foyer: You've spoken about gaining a deeper connection to your Indigenous identity as you continue to develop as an artist. Why is this important to you, and what do you want to express through your art?
Swinson: I grew up away from my Indigenous community and recently (in the last five years) realized the importance of reconnecting to culture. Growing up in Kitchener, there was little visible Indigenous representation and I never made an effort to connect to the community here. My art is a mirror of my cultural education; as I learn and connect, I want my art to reflect this. I also want others to know where I'm at in my cultural journey, with the hope of inspiring others to do the same in their own way.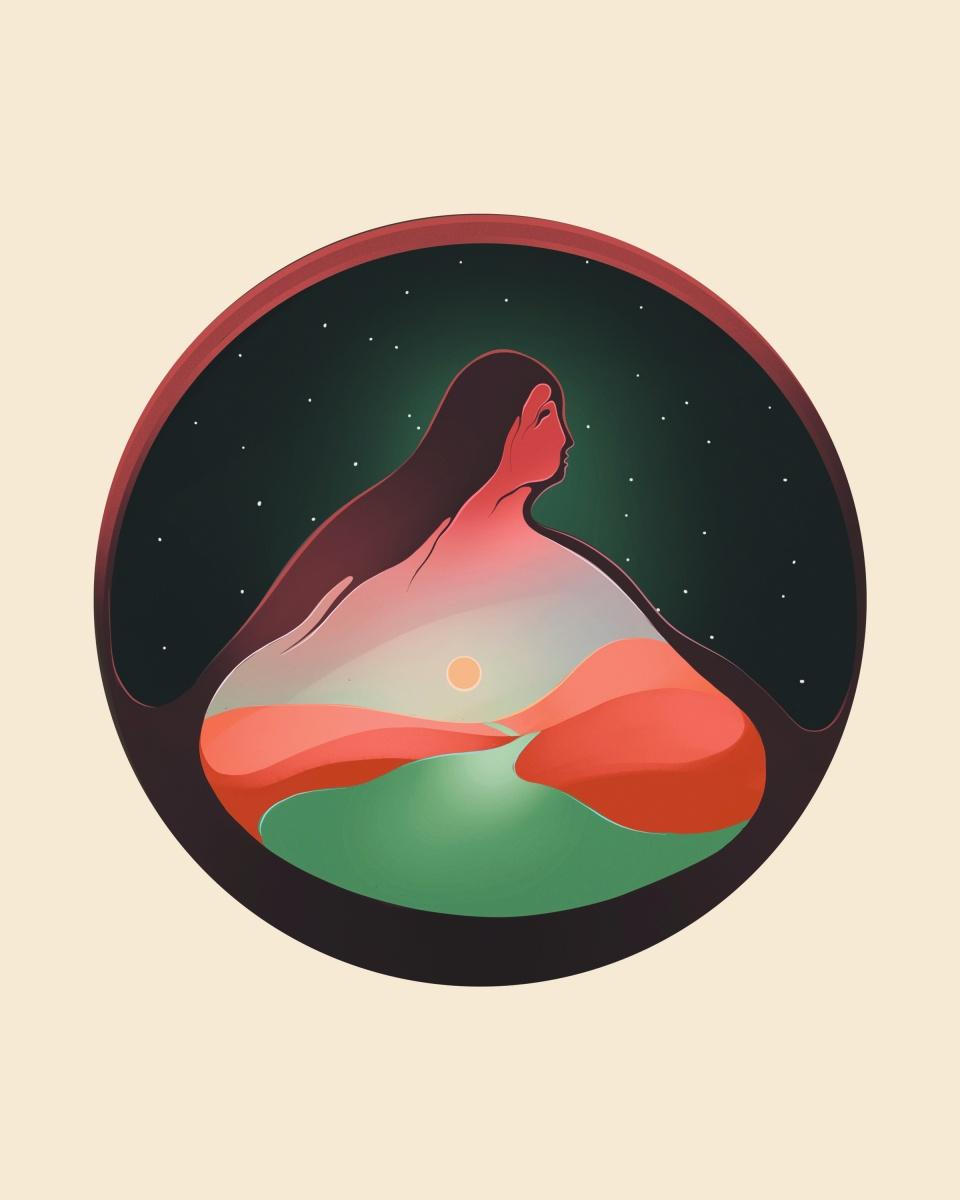 Aki-Earth © 2020 by Luke Swinson.
Foyer: What was the creative process behind your illustrations for Treaty Words: For As Long As the Rivers Flow? Which elements of Aimée Craft's words did you find the most inspiring and important to translate into images?
Swinson: Aimée's simple, yet intentional, descriptions of places and memories made it easy for me to visualize. Her words paint their own pictures. The story speaks of our broad and lasting relationship to land: large, sweeping landscapes seemed to fit this narrative. Through colour and texture, I tried to give the images a dream-like quality, since this is the feeling the story gave me while reading it.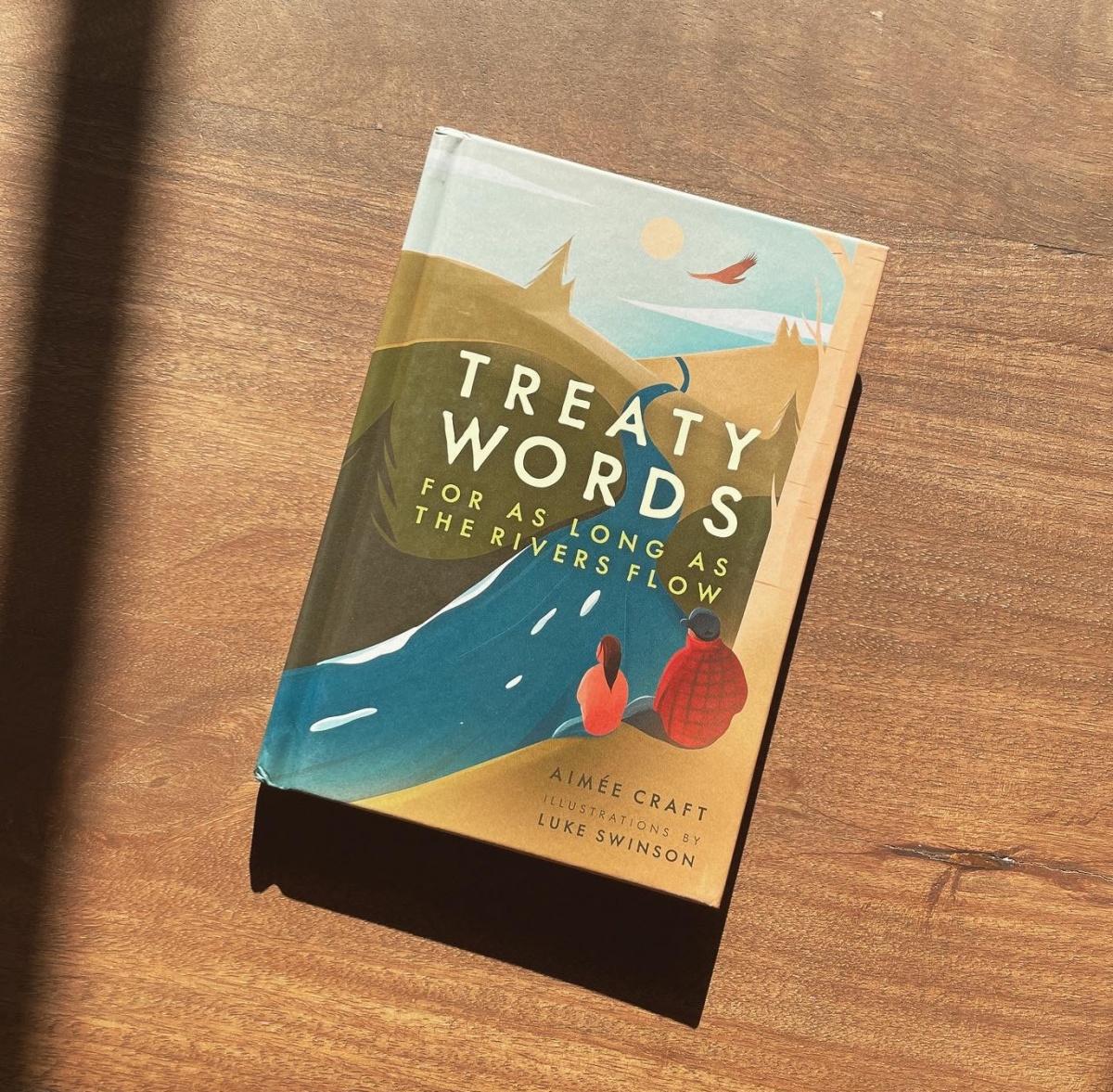 Treaty Words © 2021 by Luke Swinson (Illustration), Aimée Craft (Words). Published by Annick Press.
Foyer: You have also been commissioned to create murals around the Kitchener-Waterloo area. How is that creative process different (or the same) in comparison to your other illustrations?
Swinson: Mural gigs have been a good way for me to get more hands-on with my art. Finding ways to translate my digital-based style to large-scale paintings has been challenging yet rewarding. Learning how to simplify my work to be suitable for public art has helped me to grow as a designer. There is a lot more problem-solving and process work to these murals and it has been a great learning experience so far.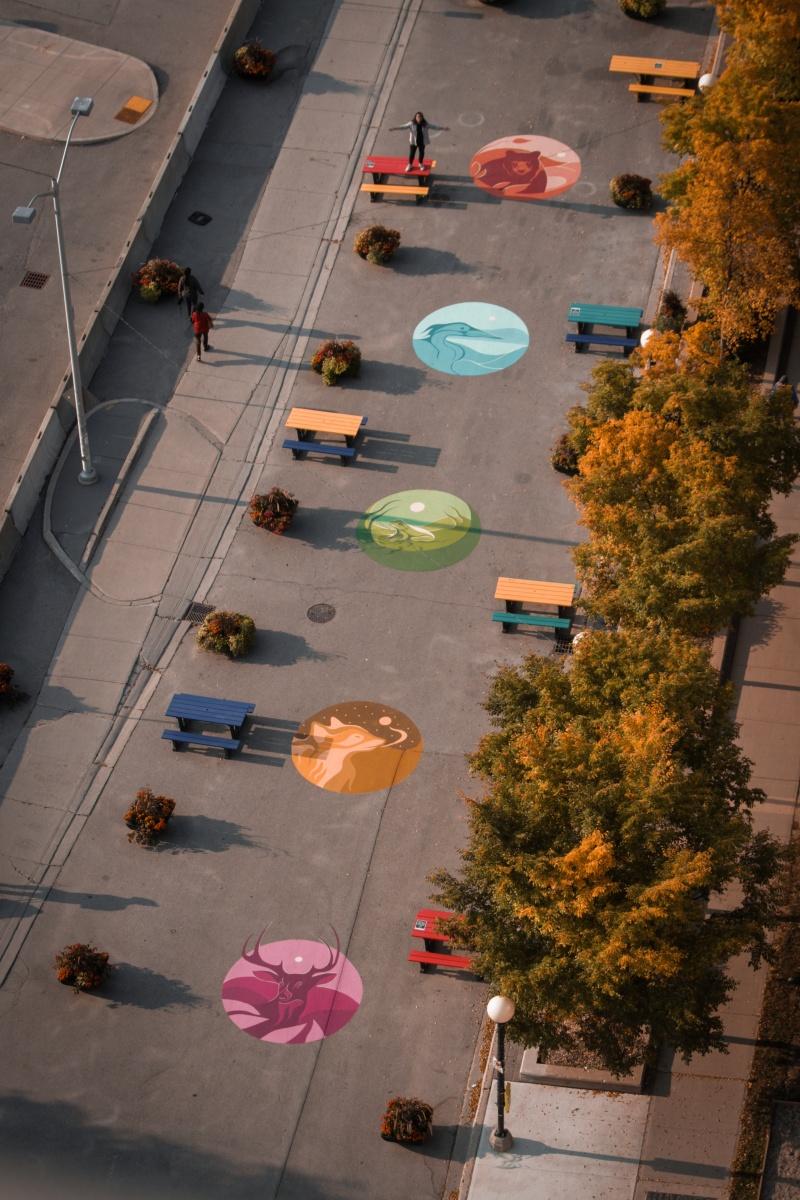 Gaukel Street Mural in Kitchener-Waterloo by Luke Swinson. Photo by Taylor Jones.
Foyer: How has social media helped to broaden your audience?
Swinson: Instagram has been instrumental in creating relationships and opportunities over the last couple of years. Being able to connect with other Indigenous people and artists has fostered a sense of community: not only in the context of art but also in culture. Seeing that there are others like you can be validating. Through Instagram, I've been given opportunities to collaborate with other artists, initiatives and organizations that have helped my platform grow.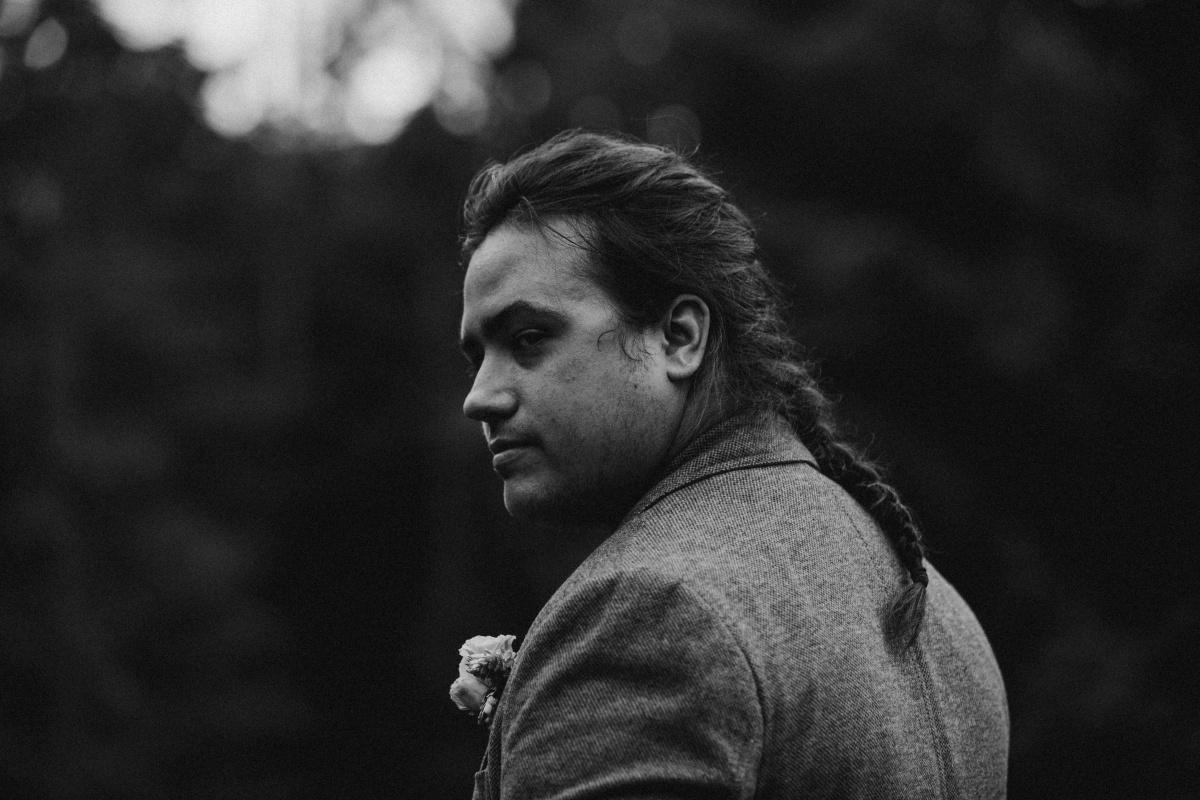 Luke Swinson. Photo by Heather Cox.
Treaty Words: For As Long As the Rivers Flow, illustrated by Luke Swinson and written by Aimée Craft, can be purchased directly through Annick Press, across Canada at Indigo, and as an e-book. Follow Luke's journey on Instagram @lukeswinsonart and his website.