Postcard from Buffalo
Take a trip to Buffalo with Nando Alvarez-Perez and Emily Reynolds, editors of Cornelia magazine.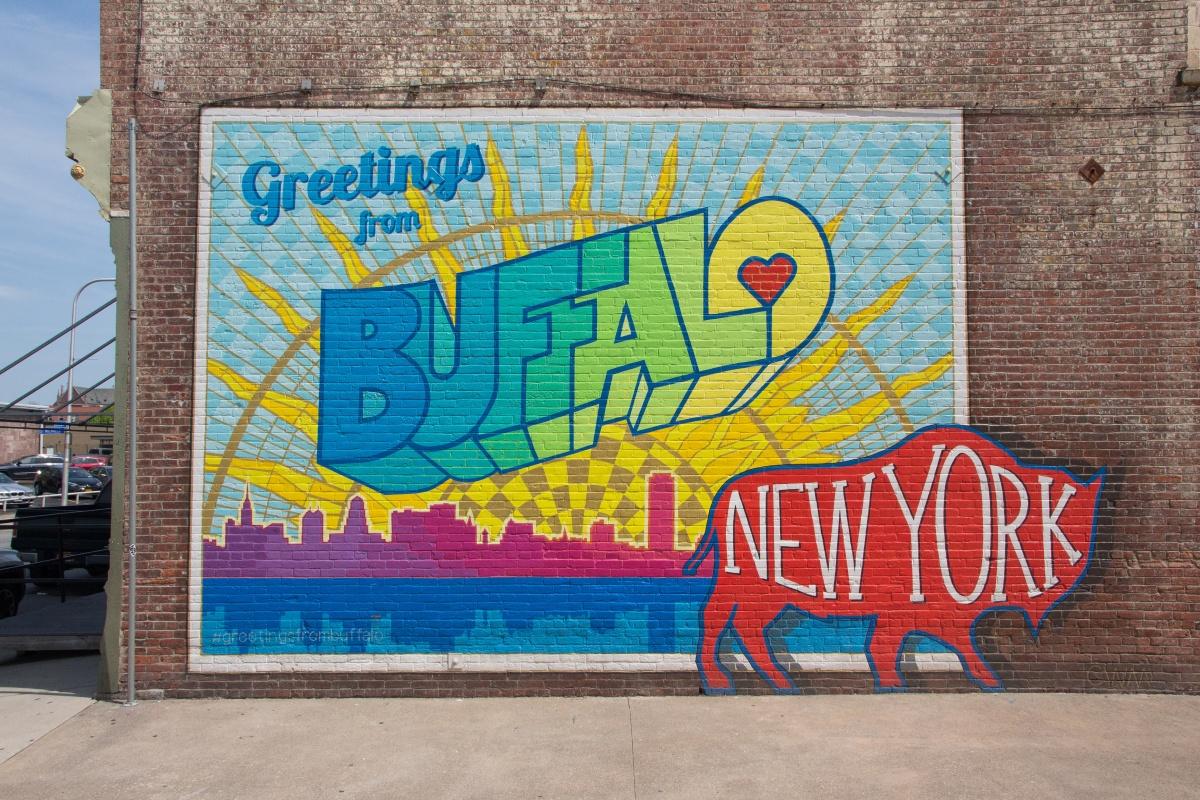 Drew Brown, Greetings. Courtesy Visit Buffalo Niagara.
We love Buffalo, New York. Home of the revered Albright-Knox Art Gallery, the Sabres, the Bills, the Frank Lloyd Wright architecture, WNED-TV and saucy wings, Buffalo is a delightful day trip, usually typified by some modernist masterpieces, a trip to Target and Anchor Bar. But thanks to Cornelia Magazine, we can't wait to start exploring the arts scene – once the border opens.
Launched in 2019, and covering contemporary art across Western New York and Southeastern Ontario, Cornelia is the brainchild of Emily Reynolds and Nando Alvarez-Perez, founders of the not-for-profit art and education centre the Buffalo Institute for Contemporary Art (BICA). Available online and in print, the magazine is published three times a year and distributed for free. From BICA's new home in downtown Buffalo, we caught up with Reynolds and Alvarez-Perez to ask what's new and what not to miss. 
Foyer: You just moved BICA, and the Albright-Knox renovations are slated to wrap in 2022. Is the Buffalo renaissance upon us?
Reynolds and Alvarez-Perez: In Buffalo, the renaissance is always upon us! And although we can't say there's a correlation between The Buffalo Institute for Contemporary Art's and the Albright-Knox's renovation projects, we can say that they are at least in part driven by our city's incredible appetite for art. Even with the ongoing difficulties of the pandemic, Buffalo also saw the launch of Rivalry Projects, Kingfish Gallery, Buffalo Kids, plus another outdoor iteration of the art exhibition PLAY/GROUND is on its way. And that's just in the last six months!
Foyer: Is there much artistic collaboration happening across Western New York?
Reynolds and Alvarez-Perez: One of our primary goals since we launched BICA is to increase collaboration and conversation across Western New York and Southern Ontario, to develop a regional ecosystem where previously there was none in order to make better use of our shared resources. This has been especially difficult this past year, but via Zoom we've been able to forge new partnerships across the Rust Belt and Great Lakes region. As people moved away from big cities last year, it felt especially important to forge community in as many ways and around as many geographic regions as possible. Our work with our friends at Resource:Art on PLAY/GROUND has been a big step forward in generating these regional conversations.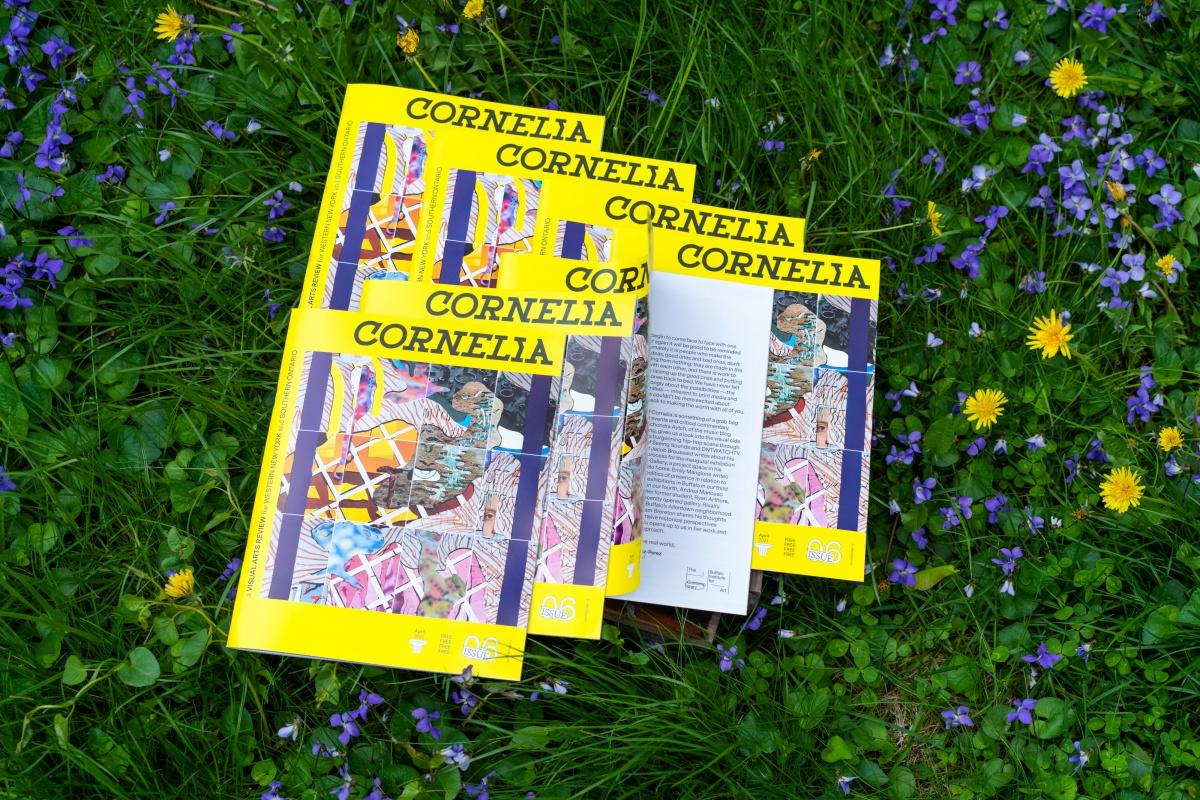 Cornelia Magazine. Image courtesy of Nando Alvarez-Perez and Emily Reynolds
Foyer: Cornelia Magazine launched in 2019. Tell us about its inspiration and namesake.
Reynolds and Alvarez-Perez: The first issue of Cornelia launched in August of 2019 and emerged from an arts writing workshop led by Lindsay Preston Zappas, the publisher of carla magazine in Los Angeles. We invited Lindsay to show her work at BICA and run the workshop because all of the local spaces for arts criticism had evaporated over the years preceding our return to Buffalo. With no criticism, the art scene had no visibility beyond itself, so a case for its relevance and significance had become increasingly hard to make, never mind all of the other attendant issues that emerge from that lack of visibility, like the difficulty of growing new audiences. Cornelia was created to solve these problems and was named for Cornelia Bentley Sage Quinton, the first woman to direct an American art museum and the only director of the Albright-Knox to be a native Buffalonian.
Foyer:  What do you love about Buffalo? Any drawbacks?
Reynolds and Alvarez-Perez: The things we love about Buffalo are its drawbacks! Buffalo's small size opens up a world of possibilities, especially for an organization with our goals: you can quickly find yourself rubbing shoulders with a range of different communities and interests and a range of people with the know-how to address those interests. But its small size is also Buffalo's biggest drawback; we need more people coming into the city bringing new ideas. We need local organizations to provide incentives to slow the constant brain drain of Buffalo's younger generations to larger, apparently more profitable or creative cities. We need politicians, investors and funders to recognize that there is more to a city's renaissance than breweries, movie shoots and mixed-use development. We need to cultivate the incredible community we have in order to draw more like-minded folks who are interested in building our city together instead of allowing it to turn into someone else's.
Foyer: The Buffalo music scene doesn't get the respect it deserves. What should people know about?
Reynolds and Alvarez-Perez: It sure doesn't, but things are starting to change! People are probably starting to get familiar with Benny the Butcher, Westside Gunn, and Conway the Machine, but there are a range of lesser known acts who are just incredible, like Jae Skeese, and CAMOFLAUGE MONK, who produces a lot of their music. For some great insight into the music scene I would point readers towards Sneakvibing, a site run by Schondra Aytch, who wrote a piece on Buffalo Kids for the last issue of Cornelia.
Foyer: If you're in Buffalo and only have a couple hours, what do you need to see?
Reynolds and Alvarez-Perez: In just a few hours you can pack in so much in Buffalo! I might recommend starting with a trip to Hallwalls and then cross the street for a studio visit with some of the amazing artists at Starlight Studio. Then head north into Allentown to check out Rivalry Projects. It may be time for a coffee and a snack after that, so keep heading north up Richmond to Remedy House for a quick pick-me-up. Just around the corner, you can finish off the day with one last art show at BICA, a beer and a round of pool at Essex St. Pub, and then you're just minutes from the Peace Bridge for the drive home.
Drew Brown, Keep Buffalo a Secret. Courtesy Visit Buffalo Niagara.
Foyer:  What local art events/shows are you most looking forward to?
Reynolds and Alvarez-Perez: There's so much coming up this summer. Elizabeth Murray: Back In Town is opening at University at Buffalo's Anderson Gallery this month, Lex Brown's July exhibition at BICA, PLAY/GROUND will be opening across in August. Heading into the fall, we're really looking forward to Difference Machines: Technology and Identity in Contemporary Art, curated by Tina Rivers Ryan and Paul Vanouse at the Albright-Knox Northland space.