Postcard from Lima
Travel to Peru with Ulla Holmquist of Larco Museum (Museo Larco).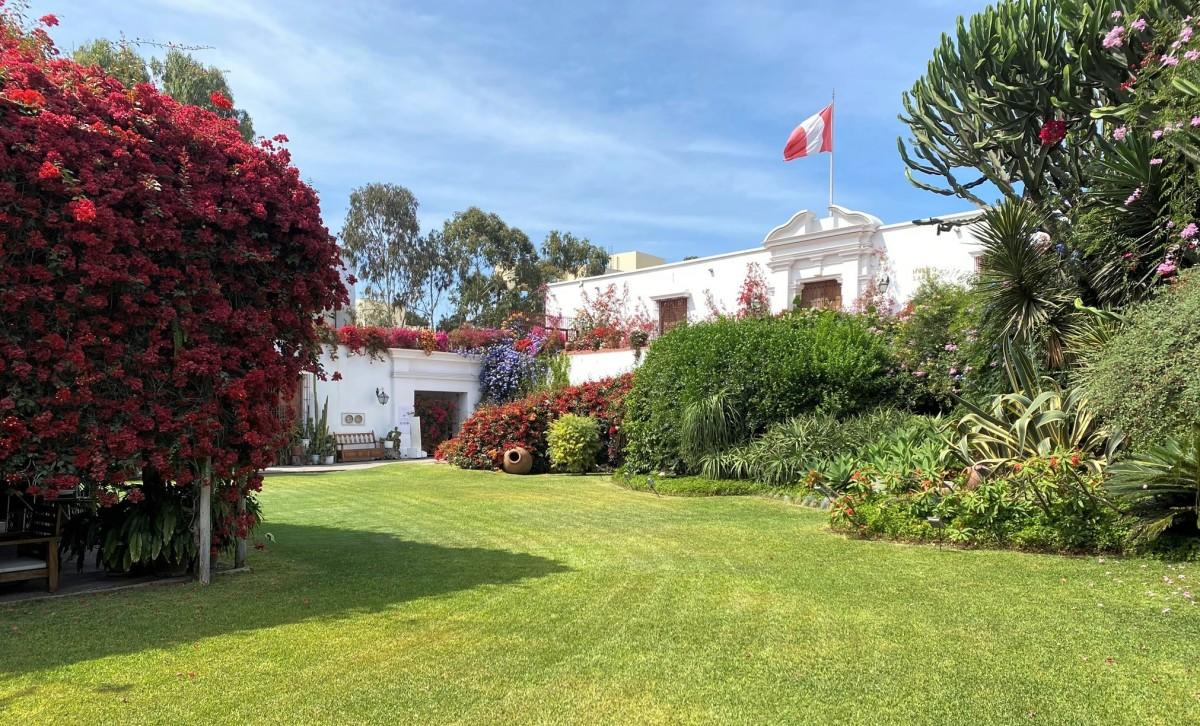 Embedded with one of the longest histories of civilization of any country, Peru is a multicultural hot spot – home to more than 500 archaeological sites with no shortage of traditions, art and culture. The capital city, Lima, is a treasure trove of deep history, enveloped by colonial remnants of the Spanish empire. Through the lens of Spain's influence, Peruvian art fluctuated through the centuries from pre-Columbian to the colonial era and now contemporary. 
In the spirit of examining art and culture from Latin America, we got in touch with Ulla Holmquist, Director of the Larco Museum, for a virtual interview in which we discussed Peru's local arts and culture scene. Established in 1926, the Larco Museum houses a fascinating collection of pre-Columbian art comprised of around 45,000 objects. Situated in an 18th-century viceroyalty mansion, the museum explores the more than 5,000-year history of Peru through its extensive permanent collection, visible storage rooms filled with 30,000 catalogued ancient pottery artifacts and its famous gallery of pre-Columbian erotic art.  
Foyer: Can you tell us about the local art scene in Peru? What are some must-see places to visit?
Holmquist: Peru is a very diverse country. As someone interested in archaeology, I would recommend visiting, of course, the Larco Museum (Museo Larco) for an introduction to the history and art of ancient Peru. Also in Lima is Pachacámac, a very large and important pre-Columbian site that is one hour driving south from the center of the city of Lima.
In the rest of Peru, I would suggest not avoiding the North Coast so you can make the Moche Route, which is a way to connect different sites related to the Moche culture – a very important culture in pre-Columbian times. Some other sites in the north to visit is the Huaca de la Luna in the Moche Valley, Huaca Cao and the Museum of the "Dama de Cao" in the Chicama Valley and Museo Tumbas Reales de Sipán (the Royal Tombs Museum) in Lambayeque. In the south is all of the Cusco area. A site that is maybe not very well known that I would recommend visiting is Tipón, which is a site that tells us about the hydraulic knowledge, fountains of water, of Inca times. I really love that site. For more general art, definitely the place would be the Museo de Arte de Lima to have a view of all the artistic development from ancient times to contemporary art, as well as the MUCEN, Museo Central in the center of Lima, two blocks away from the Main Square.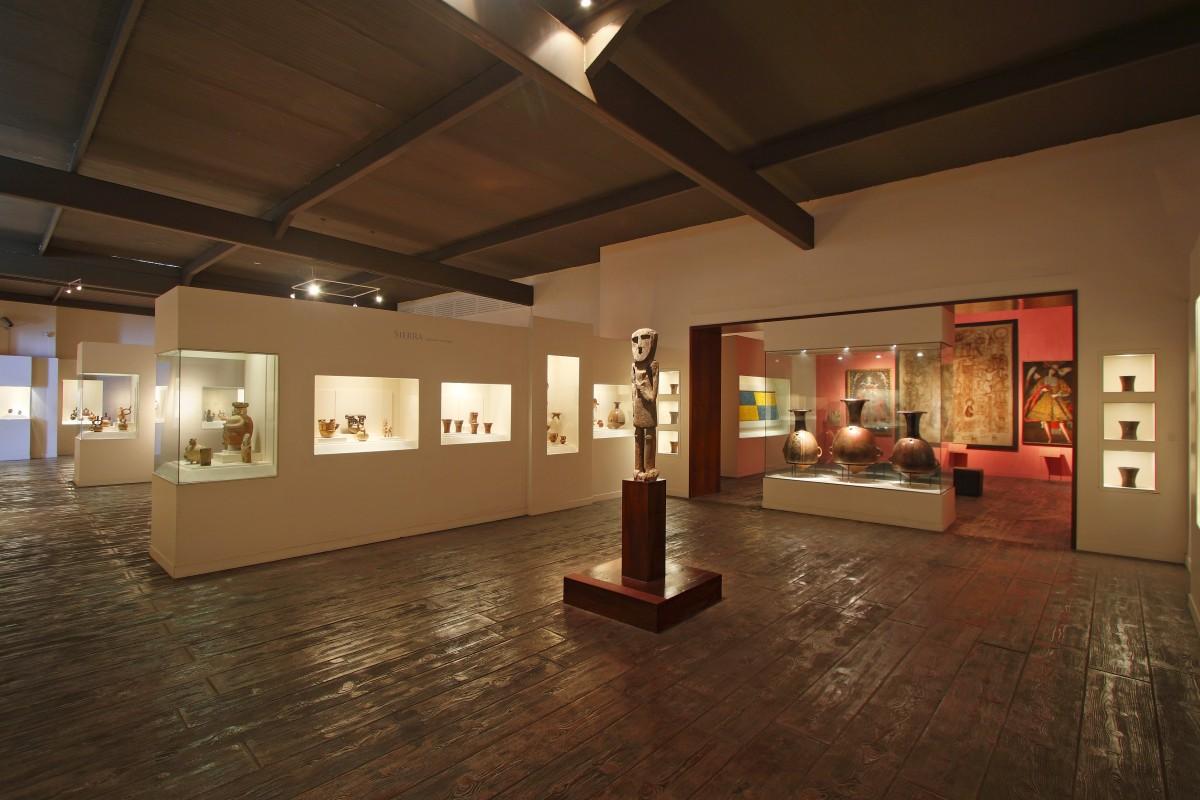 "Cultures of Ancient Peru" gallery, part of the Permanent Exhibition at Museo Larco. Museo Larco, Lima-Peru.
Foyer:  What do you love most about Peru? What are its drawbacks?
Holmquist: Our diversity. The cultural diversity and the richness of all our cultural expressions. I love that. I would say that one of the drawbacks and problem that we still have to solve is we haven't overcome is discrimination, our problems of racism – which is and was also the result of our colonial epoch.
Foyer: The Larco Museum houses a vast collection of pre-Columbian art, displaying over 5,000 years of Peruvian history. What can art tell us about place, people and culture?
Holmquist: Well, it tells us about different ethnic groups interacting and sharing ideas about being in the world. I would say it is a kind of a shared cosmovision – not completely the same, but with some common notions. One of the most interesting notions to consider is that even though all beings, humans, animals, plants, rivers, mountains and nature (let's say water and all the other beings with which we live, share life with, our personas, feelings, thoughts), have different ways of presenting ourselves or natures, we're all sharing the essence of humanity. A kind of animism or way of thinking as not separate from nature, or that the subject/object division is not present in the end. 
But the other way is to see that we coexist with others, and humans are not higher on the scale, but we depend on other beings to exist for our wellbeing. All this is based on some concepts of reciprocity and that we are part of our curriculum, cultures and conducts – which are still present in Indigenous communities. All of these are conveyed in the varied material creations of our ancestors.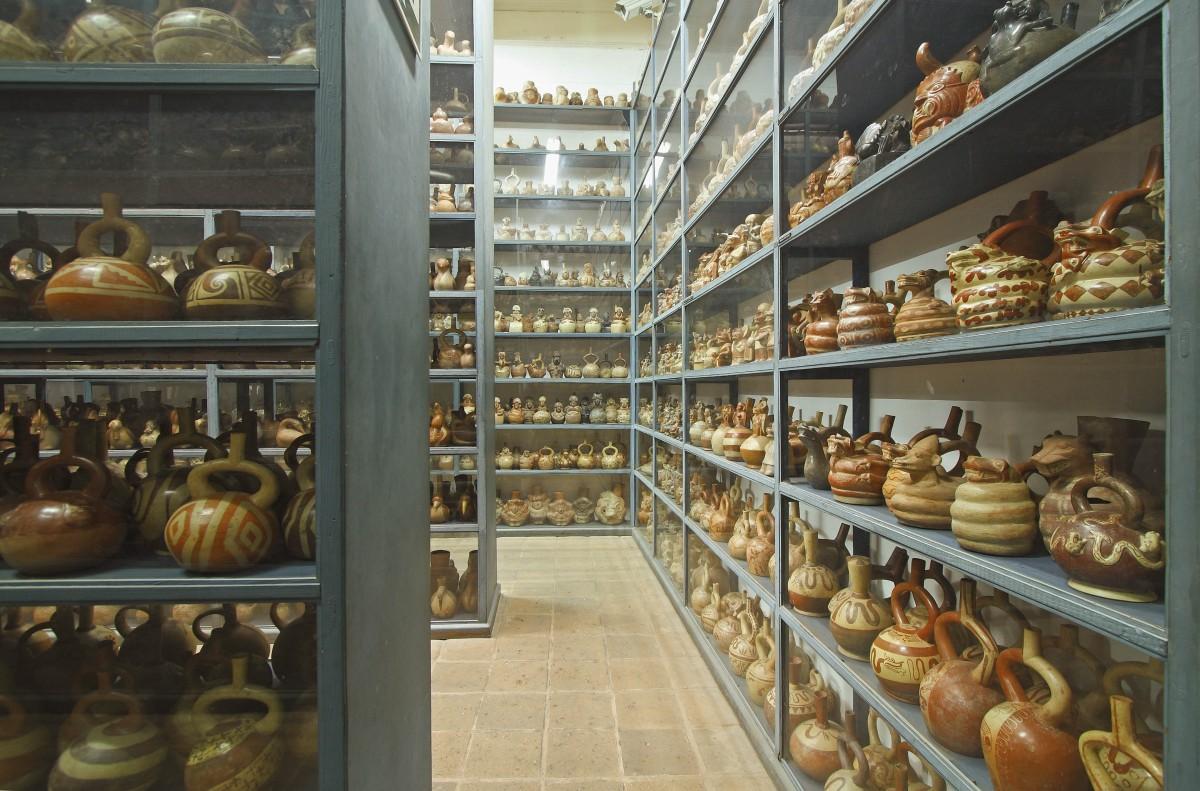 Museo Larco's unique visible storage is one of the few in the world to be open to the general public. Museo Larco, Lima-Peru.
Foyer: What are some up-and-coming or established artists from Peru that we should know about?
Holmquist: I am going to mention four that I find very interesting. Two of them are artists producing very interesting art related to the Amazon Basin. One is Christian Bendayán and the other is an Indigenous artist, Rember Yahuarcani. Two other artists who are not only inspired by  our original art also produce work that is very connected to our history and pre-Columbian artistica languages are Kukuli Velarde and Ana De Orbegoso. Both are complete artists that have a very interesting discourse about identity, our history and our original aesthetics.
 For more information on Museo Larco, visit https://www.museolarco.org.