Ask Aunt Easel: invited and embarrassed
With grace, humour and a little art history, Aunt Easel responds to your most pressing questions.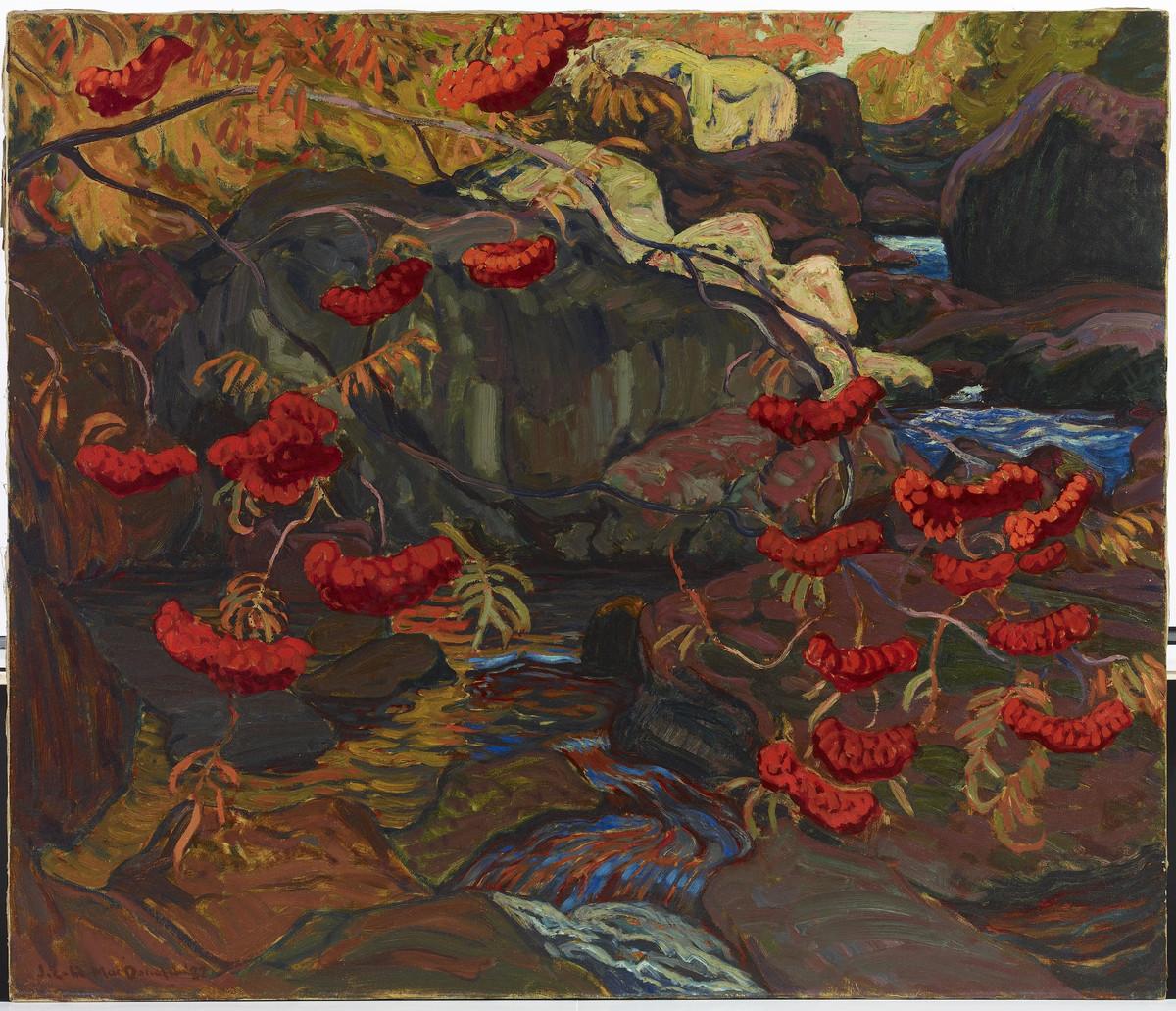 J.E.H. MacDonald, Rowanberries or Mountain Ash, 1922. Oil on canvas. Overall: 76 x 88.9 cm. The Thomson Collection at the Art Gallery of Ontario. Photo: Michael Cullen. AGOID.69148.
Découpage incarnate, Aunt Easel, the Foyer's intrepid advice columnist, is back with even more brushed-on insight, all ripped straight from the art history books. Have a question? Need some artistic comfort? Send your questions to Aunt Easel at [email protected]. 
Dear Aunt Easel,
I'm planning a holiday to visit a dear friend but have no wish to stay at their home. I know that I will be much more comfortable at a hotel and have planned accordingly. My friend is very affronted by this. How can I make her understand?  
Signed,
Wishing to be uninvited 
Dearest Invited, 
My sympathies. The road to comfort is a hard one, obstructed by aisle seats and good intentions. I salute anyone self-aware enough to know when they are better suited for four stars.  And yet, your so-called friend is entitled to her feelings. 
Did you know, rowanberries (Sorbus americana) are really terribly bitter? One of the most difficult fruits to cook with. Of course, the Cedar Waxwings love them, and they are pretty, but even the hardiest forager will admit they are barely palatable, even after exposure to several hard frosts. 
I say all this, because when I look at J.E.H. Macdonald's 1922 painting of them, I think about how much is obscured in nature by beauty. One would never know from merely looking at that graceful screen of pretty red rowanberries on the surface of the painting that it is a portrait of an inedible tangle. There's a lovely tension in the painting, with the berries distracting one's eyes from the ochre-coloured foliage in the upper left corner, and the zigzag of rushing water tumbling out of frame. While I have no doubt MacDonald was merely reminding us of nature's inexhaustible energy and demonstrating his excellent use of colour and line and knowledge of Algoma, I encourage you to consider what it means to hide behind something pretty. 
Do you really want to visit this friend? I suspect not. Are they really very close, if they can't appreciate your need for privacy? Clearly not. I recommend not going at all, or at least, postponing the trip until, after a few hard frosts, the prospect of being a guest is more palatable.
Dear Aunt Easel, 
What to do? I'm terrible at introductions. As a result, I am now six months into a casual acquaintance with a kindly neighbour, but too embarrassed to admit I don't know her name. Is there any way out of this ridiculous predicament? I once asked her to help me with the spelling, but she just laughed, thinking it a joke. Have I met Jane Doe? 
Sincerely,
Too embarrassed to ask 
Dearest ETA, 
Oh, this is indeed an old-fashioned, quick brine, pickle. Your real mistake was not having calling cards printed − I prefer mine on a nice heavy 14 pt. paper stock, with blue ink. But as it is, two possibilities present themselves: You could buck up, confess your ignorance and likely lose the respect of said neighbour forever. Or you can concede defeat and keep the charade going. FOREVER.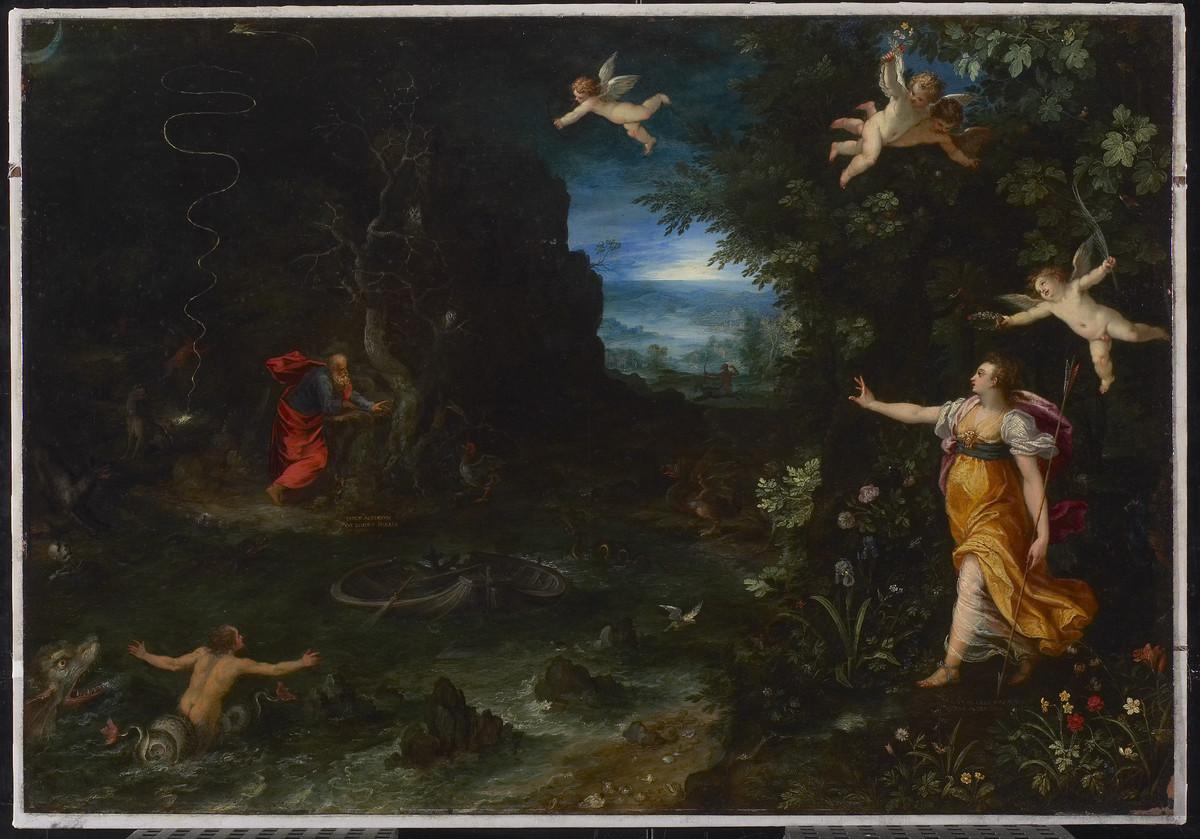 Jan Brueghel the Elder, Allegory of Life ("The Dream of Raphael"), 1595. Oil on copper. Framed: 50.5 x 66 x 3.5 cm. Gift of Joey and Toby Tanenbaum, in loving memory of Max Tanenbaum, 1986. Photo © AGO. 86/238.
I urge you to look closely at this wild painting by Jan Brueghel the Elder and Hans Rottenhammer. Bearing the rather grand title The Allegory of Life (The Dream of Raphael), it's a complicated scene executed on copper, depicting the mythical sorceress Circe tormenting an elderly Ulysses, who is separated by the river Styx from his long-suffering wife Penelope.  Based on an engraving of the same name by Giorgio Ghisi from 1561, this unusual painting is so full of action — mermen, cherubs, boats and flowers, scattered across an exquisite landscape showcasing Brueghel's real talent — that it actually requires subtitles. Squint closely and you'll see, courtesy of the Aeneid, that beneath the Ulysses figure, it says "The unhappy one sits and will sit forever" and beneath Penelope, it says "Do not yield to adversities, but go out and meet them bravely." 

So here you have it − heed Penelope and rise to the challenge. Success is not guaranteed, it could be fun, perpetually trying to find ways to avoid admitting your gaffe. When stuck, be like Breughel, and embellish every sentence and awkward pause − the more mythic, the better.