Shifting the canon
Kerry James Marshall's vibrant depictions of Black life reimagine art history and future.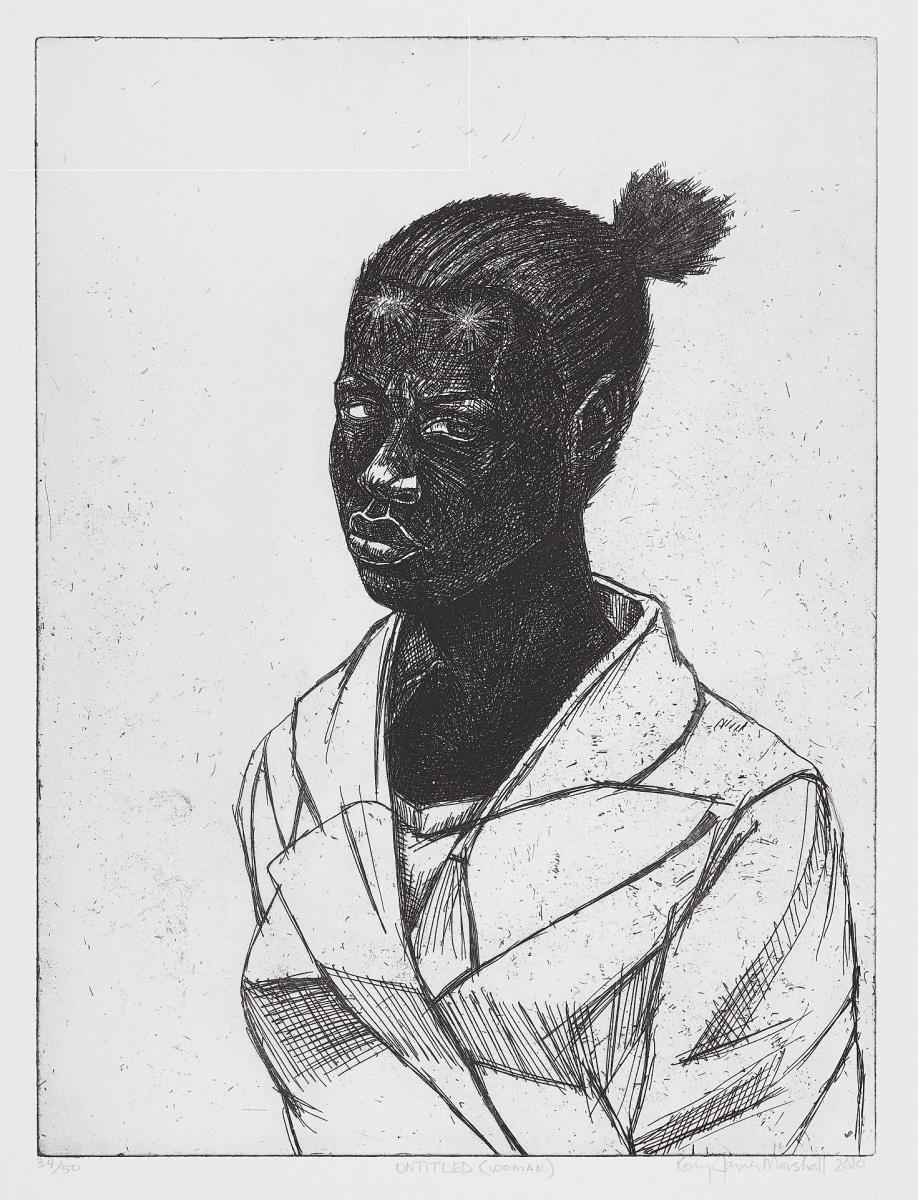 Kerry James Marshall. Untitled (Woman), 2010. Etching on paper, Sheet: 62.2 × 48.3 cm. Purchased as a gift of James Lahey and Pym Buitenhuis, 2017. © Kerry James Marshall, courtesy of Paulson Fontaine Press, 2017/56.
"We live in a material world, in which the things we see shape our expectations" – Kerry James Marshall 
Representation and inclusion have become buzzwords in today's climate. Adding diversity to your organization's agenda is easy, but truly exploring how to meaningfully give agency to under-represented communities is a more complex task. In the art world, this important work may include empowering those artists whose voices help subvert Eurocentric ideas about art history, while creating new space for those who have been excluded. African-American artist Kerry James Marshall built an illustrious career being exactly this kind of artist—and the world has taken note. 
The subjects portrayed in Marshall's work are in his own words, "unequivocally, emphatically Black." In paintings, their skin tones are created using various shades of black paint, allowing the undeniable presence of Blackness to always take centre stage. In prints and drawings, he uses ink or graphite to create depth of color. Marshall depicts the diverse tapestry of Black America in his paintings, drawing on the surreal to capture majestic snapshots of public life, as well as intimate portraits. His work intentionally speaks to the erasure of Black bodies from much of art history, specifically the "old master works" , as he reimagines many classically European tropes and compositions in a way that puts Black life in the forefront. "I'm acutely aware of a general absence of Black figures in the center of the narrative of any of the pictures that become the foundation of the art history we know," Marshall said in a 2014 interview with the Louisiana Museum of Modern Art.  
The AGO Collection is home to one work by Marshall. Untitled (Woman) (pictured above) is an etching portrait of a woman, with a tight ponytail, evocatively gazing at the viewer. Her skin tone is created by the lines that Marshall drew onto a copper plate. His skill in laying the lines together to create a rich, black tone masterfully captures the skin of his sitter and reflects his focus on putting blackness at the fore.
Born in 1955 in Birmingham, Alabama, Kerry James Marshall knew at an early age he wanted to be an artist. After relocating to California not long after his birth, the Marshall family settled in the Watts section of Los Angeles. Given that Birmingham was an epicentre of tensions during the Civil Rights movement, and Watts was a major stronghold of the Black Panther Party, Marshall spent his adolescence both entrenched in vibrant Black culture and faced with the threat of extreme racial violence. He attributes much of his core artistic inspiration to these years.
After graduating from Otis Arts Institute in 1978 and spending time as the protégé of artist Charles White, Marshall immediately began exhibiting art across America during the 1980s and '90s. He solidified global fame in the 2000s as his work travelled throughout Europe and premiered in major solo exhibitions at top American art institutions including the Whitney Museum of American Art (NYC), the National Gallery of Art (DC), and the Museum of Contemporary Art Chicago.  To date, he has received countless prestigious honours, including Harvard's W.E.B. Du Bois Medal, as well as the MacArthur "Genius Grant."
In 2018, Kerry James Marshall's 1997 painting Past Times sold at auction for a record-setting 21.1 million dollars, to the highest bidder – Sean 'Diddy' Combs, making it the most expensive work by a living African American artist. While the canon of "old master works" may render Black life invisible, it's abundantly clear that the vision of new masters like Marshall contains the colour black in high definition.