Britta B. talks about her new book
We spoke to the Toronto-based poet about Wires That Sputter.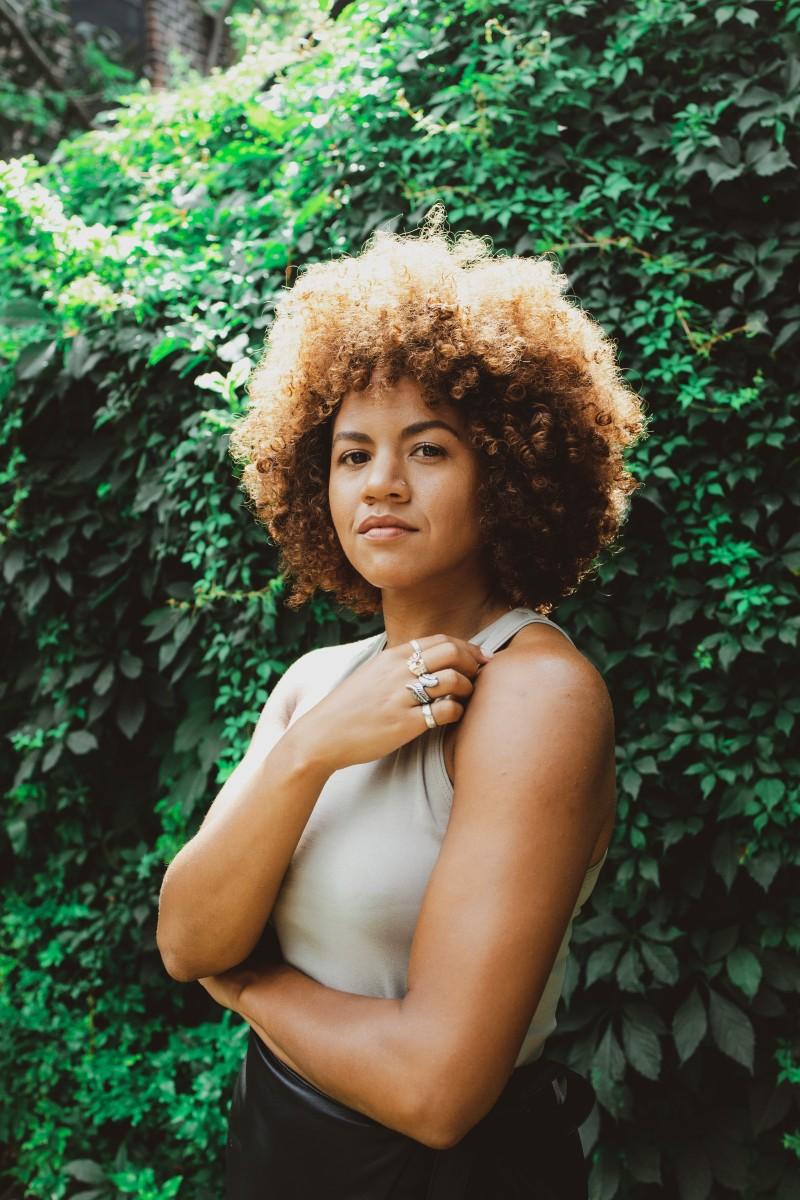 Earlier in March 2023, the AGO welcomed three acclaimed poets to Walker Court, each to launch and read excerpts from their new poetry collections. As part of the AGO's free Wednesday night program, visitors experienced dynamic readings from Wires that Sputter by Britta Badour, Continent by Aaron Boothby, and The Natural Hustle by EVA H.D.
On the heels of this well-attended event, we got a chance to catch up with Badour – stage name Britta B. – to find out more about her new book and unique narrative as an artist. After sharing her passion for personal growth, she let us in on a secret about how her book got its title.      
Foyer: You got your start in spoken word poetry, which evolved into public speaking, education, and now publishing a book. Can you share some of your career journey with us?
Badour: From afar, it could look like I rack golden opportunities out of nowhere, but I have been steadily evolving little by little my entire life. One thing I hold high is that I have been writing since the day my mom taught me how to spell my name. It's a memory I need to keep at the forefront of my mind because it informs me as an artist who I am and reminds me that I am incredibly fortunate to have made a life and living out of pursuing my creative instincts. Another detail to note about me is that I am incredibly excited by personal growth. I have an insatiable desire to expand my abilities and to grow as an artist. When an opportunity floats my way, it needs to align with what I want to do next as a performer, teacher, writer, or emcee. Recently, I earned an MFA in creative writing, and now my thesis defense is my debut poetry collection published by McClelland & Stewart in Canada and the U.S.! I wanted to see my poetry in books and now I'll get a taste of what it's like to be on a book tour. 
To understand how I attract the sort of opportunities that I do is a lesson in trusting in yourself and trusting that the energy you put out to the world will reciprocate tenfold. For me, everything tends to be tied with how I set goals and intentions, but also with how much presence I give to the process.  I keep my ears attuned to the whispers that say, "You're exactly where you need to be. Keep doing what you're doing." 
Foyer: What can readers expect from Wires That Sputter? Can you share some of the themes/messaging you touch on in the book and what you hope people take away from it?
Badour: People can expect musicality and the sort of tension one grapples with when sudden noises or megaphones thickening the walls on school nights disrupt the rhythm of the room. I hope readers recite this work out loud, if not to another, at least to oneself. I think readers will feel closer to my writing if they read the work out loud. Thematically, there's a lot of focus on family in these pages, basketball jargon and pop culture referencing, as well as a suite of found poems written after James Baldwin's short story, "Sonny's Blues". As an artist I'm interested in contributing to culture so if something I write makes people use my words in a way that adds beauty to their senses and means no harm then I am satisfied. I hope people receive at least one hard unaltered spark from this collection that sticks to their tongue. 
Foyer: How did you land on the title Wires That Sputter? What is its deeper significance?  
Badour: I love this question and feel a shiver considering its best response. But I wouldn't be able to revel in my artistry if I gave all my tricks away, so I will leave the deeper significance to my readers to channel and interpret. I am thrilled to share, however, that naming this collection came about over one of several conversations with Dionne Brand. She noticed two or three title possibilities jutting from my poems when she read the work and this is the one that rattled and stuck with me the most. So, I am immensely empowered and proud to say, Dionne Brand named my book. 
Foyer: What's next for Britta B? Any exciting upcoming project or works in progress you can share with us?
Badour: Short story: I'm currently working toward a new book that explores my poetic voice in long-form. I'm really interested in prose blocks right now and looking forward to setting time aside to study what's already been achieved by others. One dream of mine is to host a major televised event or series that has little to do with poetry but allows me to use my performance skills in new ways. Shorter story: I don't know what's coming next and that's exciting.
Britta Badour's Wires That Sputter is available to purchase now.