Presented by Signature Partner

Lone Mummer Inside
We travel to Newfoundland's northeast coast through the seminal prints of David Blackwood.
---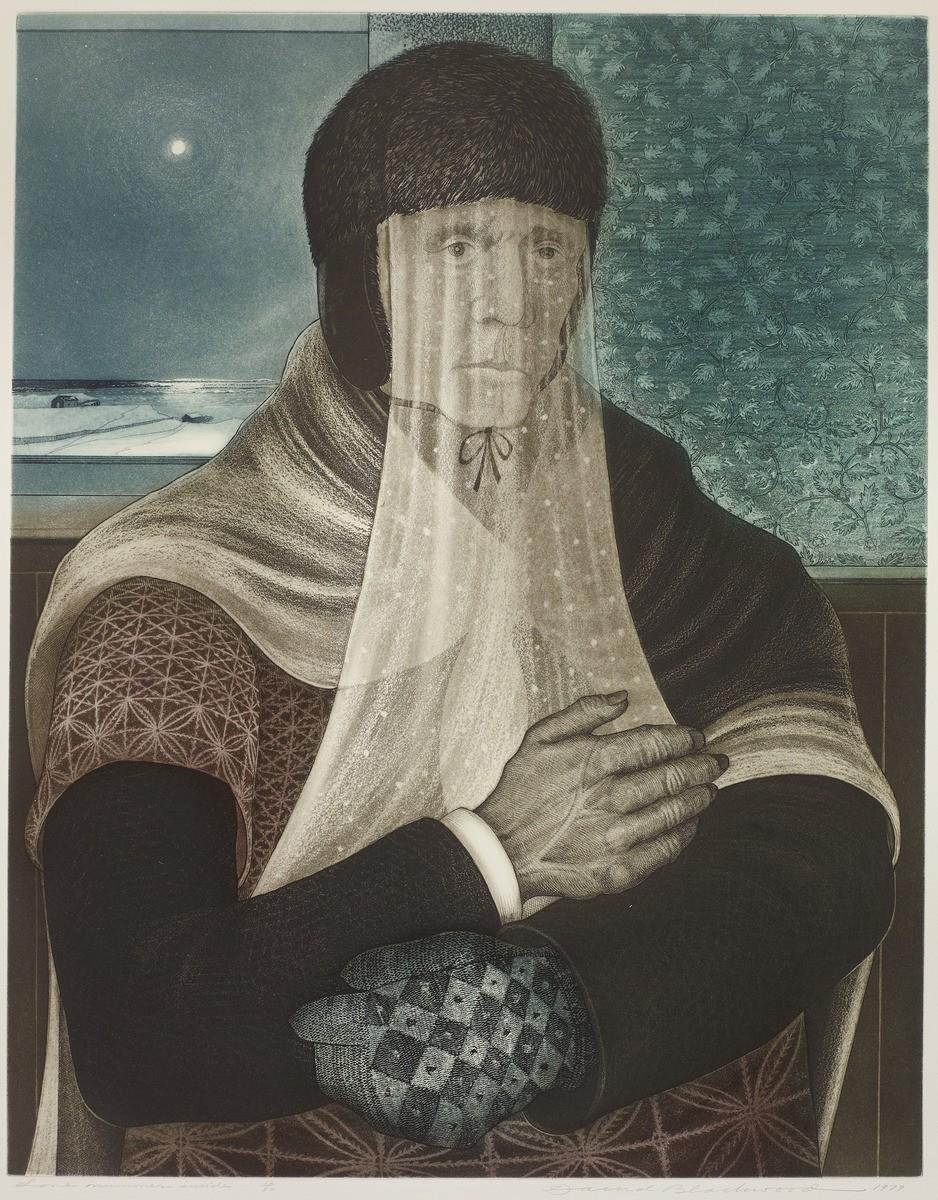 David Blackwood. Lone Mummer Inside, 1979. etching and aquatint on wove paper, Overall: 61 x 91.4 cm. Art Gallery of Ontario. Given by friends in memory of Norman Bruce Walford, Chief of Administration and Corporate Secretary, the Art Gallery of Ontario, 1981-1989, in appreciation of his devotion to the Arts, 1994. © Estate of David Blackwood. 93/415.
We're taking a closer look at one of the many prints by late Canadian visual artist David Blackwood for this entry in the RBC Art Pick series. Lone Mummer Inside (1979) is a large etching centered on a single figure, a mummer. Blackwood's tremendous skill as a printmaker is on full display in his masterful depiction of various textiles: the mummer's jacket sleeve, the white veil draping down his face and the fur of his cap. The background is split behind this figure as if he's stationed between two worlds. On the left is a nocturnal view of the coast from a window or a door, and on the right is the interior of a room with botanical-themed wallpaper. There is something uneasy, even otherworldly, about this expressionless mummer, appearing alone in the cover of darkness with his face hidden.  
Blackwood is best known across Canada for his vivid folkloric and deeply personal reimagining of his beloved home province, Newfoundland. Originally from Wesleyville, a small community on the province's northeast coast, he moved to Toronto in 1959 to study printmaking at the Ontario College of Art (OCA) – now known as the Ontario of College of Art and Design University. When not studying, he spent hours viewing the art on display next door at the AGO. His profile soon grew as a nationally and internationally acclaimed printmaker, and all the while, he maintained a longstanding relationship with the Gallery. By the early 2000s, he and his wife Anita donated a remarkable 240 of his prints, drawings and archival materials to the AGO, establishing the Gallery as the premier destination for his work in Canada. 
Mummering in Newfoundland is said to have been part of the traditions transplanted by the Irish and English who settled in the area in the 18th century. As a holiday-themed tradition, it takes place during the twelve days of Christmas. Members of these tight-knit communities disguise themselves and visit their neighbours' homes. Part of the fun is guessing who is underneath the disguise. Blackwood often revisited this tradition and its imagery in his art, for example, in the prints Pound Cove Mummers Crossing Cold Harbour Pond (1985), Three Mummers on Winsor's Point (1979), and Lone Mummer Approaching (1976). Like Lone Mummer Inside (1979), the figures in these works all wear thin white veils over their faces. Mummers tend to visit their neighbours in groups – entire families or friends, which Blackwood depicted – so the visit of a lone mummer could be viewed as strange or even threatening. The mummer in Lone Mummer Inside (1979) wears just one glove, leaving us to wonder if he's about to remove his veil and reveal his identity.