Presented by Signature Partner

The House on Piccadilly Street
 We explore the calming intimacy of an empty home with this work by Kim Ondaatje. 
---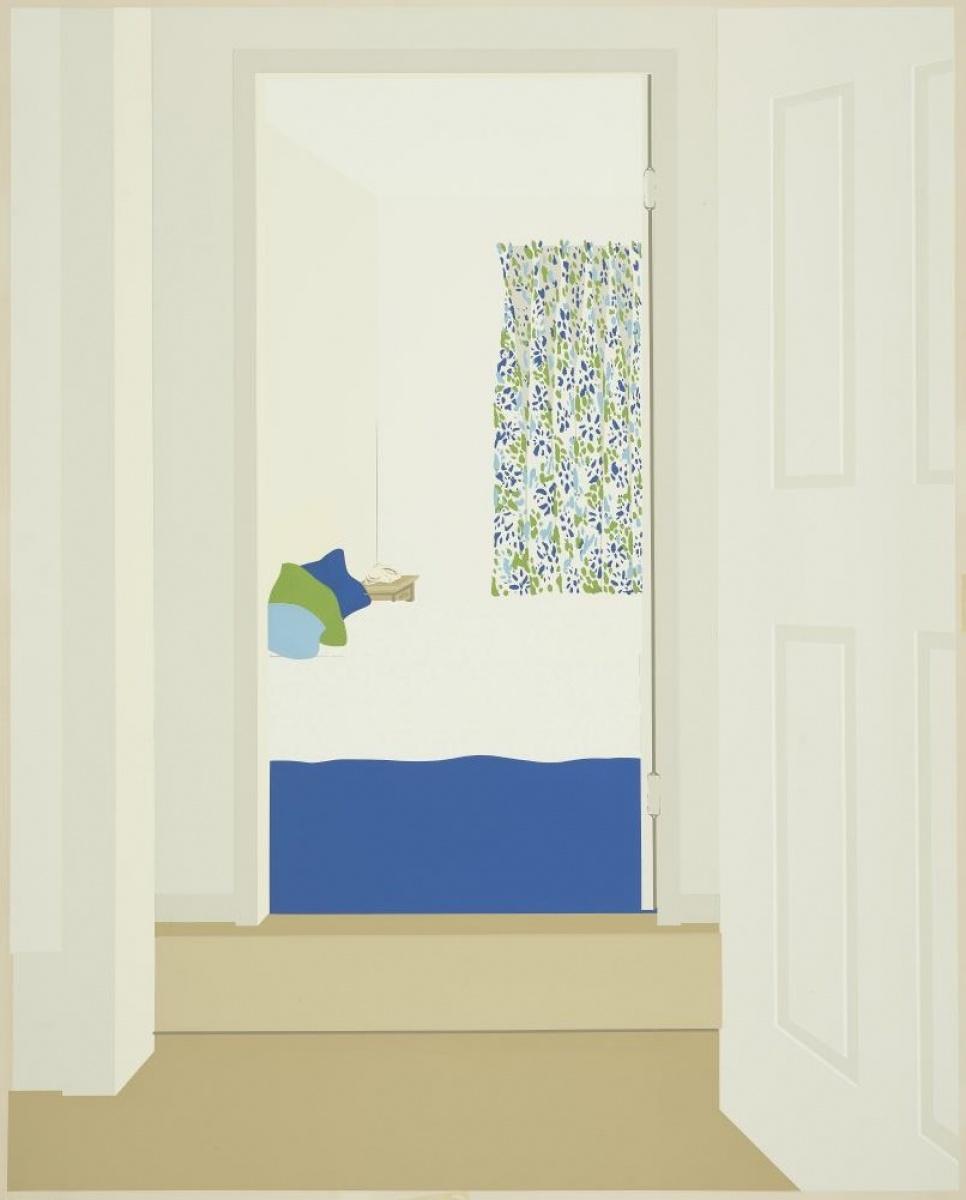 Kim Ondaatje. Blue Bedroom (or "Bedroom"), 1970. Screenprint on paper. Image: 75.5 x 61.5 cm. Purchase, with funds from Joyce and Fred Zemans, 2020. © Kim Ondaatje. 2020/12.
In 1967, Canadian artist Kim Ondaatje and her family rented a late 19th-century Victorian home on Piccadilly Street in London, Ontario. Enamoured with the emptiness of the space, which had recently been cleaned and repainted in preparation for new tenants, Ondaatje was inspired to take photographs and create drawings of various rooms. These became foundational materials for the acrylic paintings and subsequent silkscreen prints that comprise her series, The House on Piccadilly Street – seven works which are part of the AGO Collection. 
Featuring bedrooms, doorways, various pieces of furniture and even a basement furnace, The House on Piccadilly Street is made up of sterile yet intimate depictions of a home without people. From Ondaatje's unique vantage point, the empty living space exudes a transitional energy, having just been vacated by one family and waiting for another to arrive. She began the series with acrylic paint in 1967, creating 12 large-scale paintings of the Piccadilly home over the next two years, from an attic studio located on the same street. In 1969, Ondaatje selected seven of her strongest Piccadilly paintings (Blue Bedroom, Chair, Doors, Cuckoo Clock, Pine Cupboard, Hall and Furnace) and scaled them down in order to produce her first edition of screen prints. Of these, six were acquired by the AGO in 2020, and the seventh – Blue Bedroom – has been included in the AGO Collection since 1972.  
In stark contrast to the stillness of her Piccadilly series, Kim Ondaatje has lived an action-packed life full of diversity. She is a mother of six who, in addition to her career as an artist, was a hockey player, forest ranger, teacher and even a Dalmatian breeder. Her foray into the arts began in the 1940s when she attended the Ontario College of Art (now OCADU) and McGill University. After teaching at Wilfred Laurier and Sherbrooke Universities, by the mid-60s Ondaatje became a full-time painter, exhibiting work widely throughout Canada and abroad. In July 2021, she made her solo exhibition debut at the AGO with Kim Ondaatje: The House on Piccadilly Street, featuring a selection of screenprints, paintings, photographs, letters and sketches from her personal archive. 
Kim Ondaatje's contribution to Canadian art is also marked by her important role in the London Regionalism movement. Having settled in the house on Piccadilly, she became actively involved with the city's vibrant artist community. Along with cohorts including Greg Curnoe, Jack Chambers and Tony Urquhart, Ondaatje rejected the idea that major cities like Toronto or New York were the prime location for artmaking. They instead, according to Renée van der Avoird, AGO Assistant Curator, Canadian Art, "sought inspiration in their own lives and region, weaving increasingly complex notions of 'the local' into their multifaceted practices."