Honouring Angelika Hoerle
The AGO opens its Prints & Drawings vaults to mark Angelika Hoerle's centenary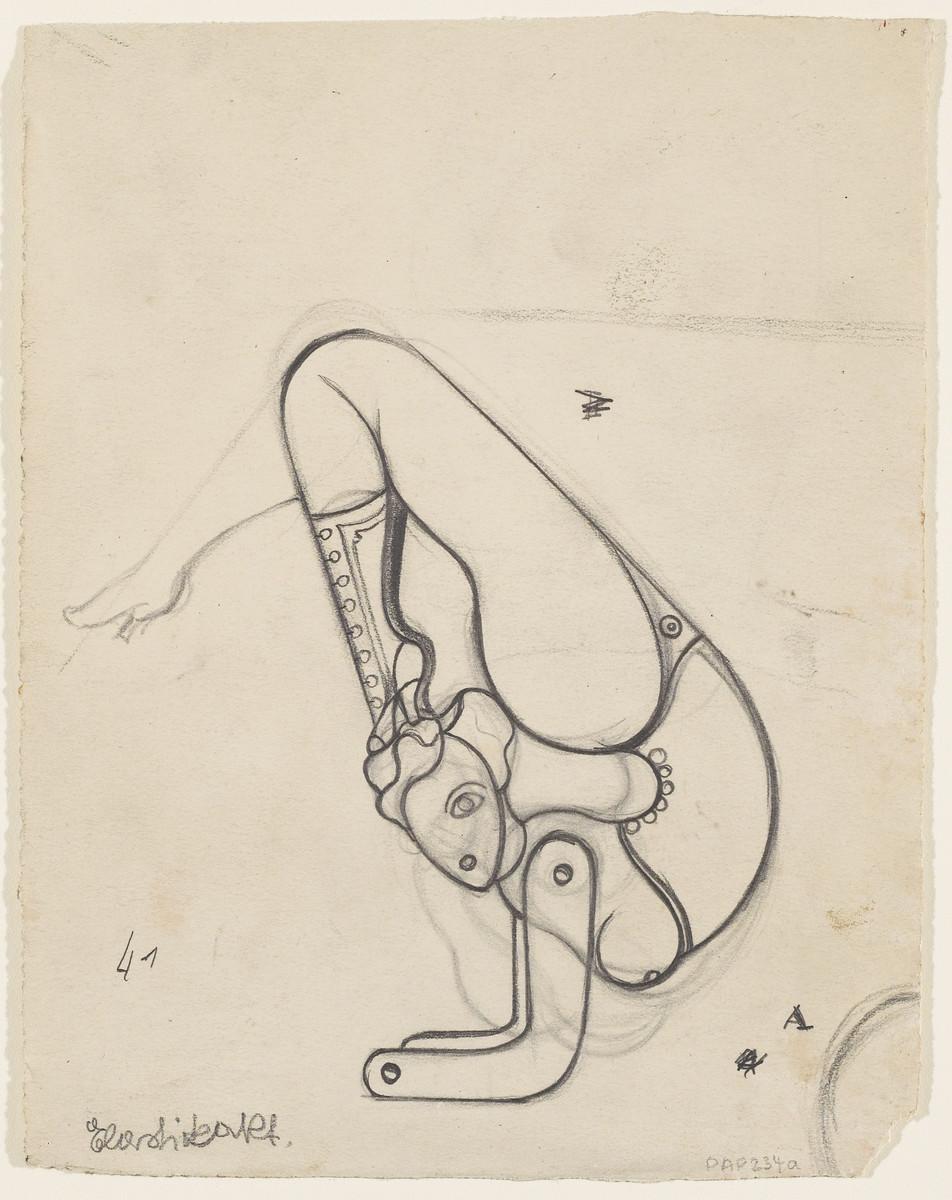 Angelika Hoerle. Elastikakt (recto), 1921. graphite on paper, Sheet: 22.8 × 17.8 cm (9 × 7 in.). Art Gallery of Ontario. Fick-Eggert Collection, Gift of Angelika and David Littlefield in memory of Angie's great-uncle Willy Fick and her parents Frank and Suse Eggert, 2002. © Art Gallery of Ontario 2002/10972.1
September 9, 2023 marked the centenary of death of renowned German artist Angelika Hoerle. Though she passed at the young age of 23 in 1923, Hoerle's outstanding body of work made her an influential member of Cologne's Dada art scene in the early 1920s. As an artist, printmaker, designer, feminist, and anti-war activist, Hoerle founded the iconic Cologne-based art collective Stupid along with her husband Heinrich Hoerle and brother Willy Fick.       
The AGO holds the most extensive collection of Hoerle works and resources related to her Dada, Surrealist and political activities in Cologne. On Wednesday, September 13, the AGO will honour the centenary of Angelika Hoerle by placing six of her works on view for Open Door Wednesdays in our Prints and Drawings department. From 1 pm to 8 pm, visitors can view these groundbreaking pieces of Hoerle's oeuvre, as well as request to view other prints, drawings, and photographs from the AGO's permanent collection, in the Marvin Gelber Print and Drawing Centre on Level 1 of the Gallery. 
"The AGO is incredibly fortunate to hold more than 40 works by Angelika Hoerle in its Collection," says Alexa Greist, Curator and R. Fraser Elliott Chair, Prints and Drawings at the AGO. "Angelika Hoerle was a vital figure in the Dada movement in Cologne, Germany, and her beautiful and enigmatic drawings offer a glimpse into a politically active artist in 1920s Germany." 
The AGO first displayed these key works by Hoerle in the 2009 solo exhibition, Angelika Hoerle: Comet of Cologne Dada. Hoerle's great niece and Toronto-based art historian Angie Littlefield curated the exhibition. Littlefield shared her thoughts about her great aunt's influential art and enduring legacy with Foyer. 
"I am in awe that my great-aunt Angelika Hoerle's art has been exhibited in ten countries on three continents, when you consider she was dead at 23 from tuberculosis.  Her brother, artist Willy Fick, told our family about her talent, strength of character and the charisma that drew others to her in Cologne, Germany during the WWI and in the Dada period. Heinrich Hoerle, Marta Hegemann, Jankel Adler, Anton Raederscheidt and Gottfried Brockmann painted her in portraits. Men  and women respected her work on publications and exhibitions that she undertook with the goal to effect change in society.  My great-uncle Willy kept her art and documents hidden from the Nazis because he was proud of his sister's efforts and indomitable spirit. I have pursued bringing that art to the attention of the world because it shows that one person, even from a hundred years ago, is able to speak to us today about the potential of art to act as a change agent." – Angie Littlefield 
View  the work of Angelika Hoerle this Wednesday, September 13 in the Marvin Gelber Print and Drawing Study Centre, on Level 1 of the AGO, as well as by request during any Open Door Wednesday. Find out more about Open Door Wednesdays here.