Totems of inspiration
Illustrator Moya Garrison-Msingwana shares some of his definitive works.
SomeN*ggasHike_002. Image courtesy of Moya Garrison-Msingwana.
In the digital age, many illustrators carry a dynamic skill set that places them in high demand. The ability to draw, paint and digitally render a creative vision can allow for a vibrant art practice as well as a sustainable career—not an easy task for an artist in uncertain times.   
Toronto-based artist Moya Garrison-Msingwana's unique style of illustration has resonated deeply with art-lovers and influential brands alike. Whether it be through community-minded projects like his 2020 T-shirt design with Stussy Canada (commemorating Toronto's historic Black barbershop, Lloyd's), or his recent contribution to fashion giant Loewe's 2021 fall/winter campaign, Garrison-Msingwana is making an undeniable impact. On January 12, 2021, along with artist Michael Nyarkoh, he was featured on AGO's Art in the Spotlight series for an in-depth chat about his practice. 
In this exclusive image essay with AGOinsider, Garrison-Msingwana provides a guided tour of some of his most definitive works, sharing with us the origin story, inspiration and intention behind each.
By Moya Garrison-Msingwana
GoodFaith_001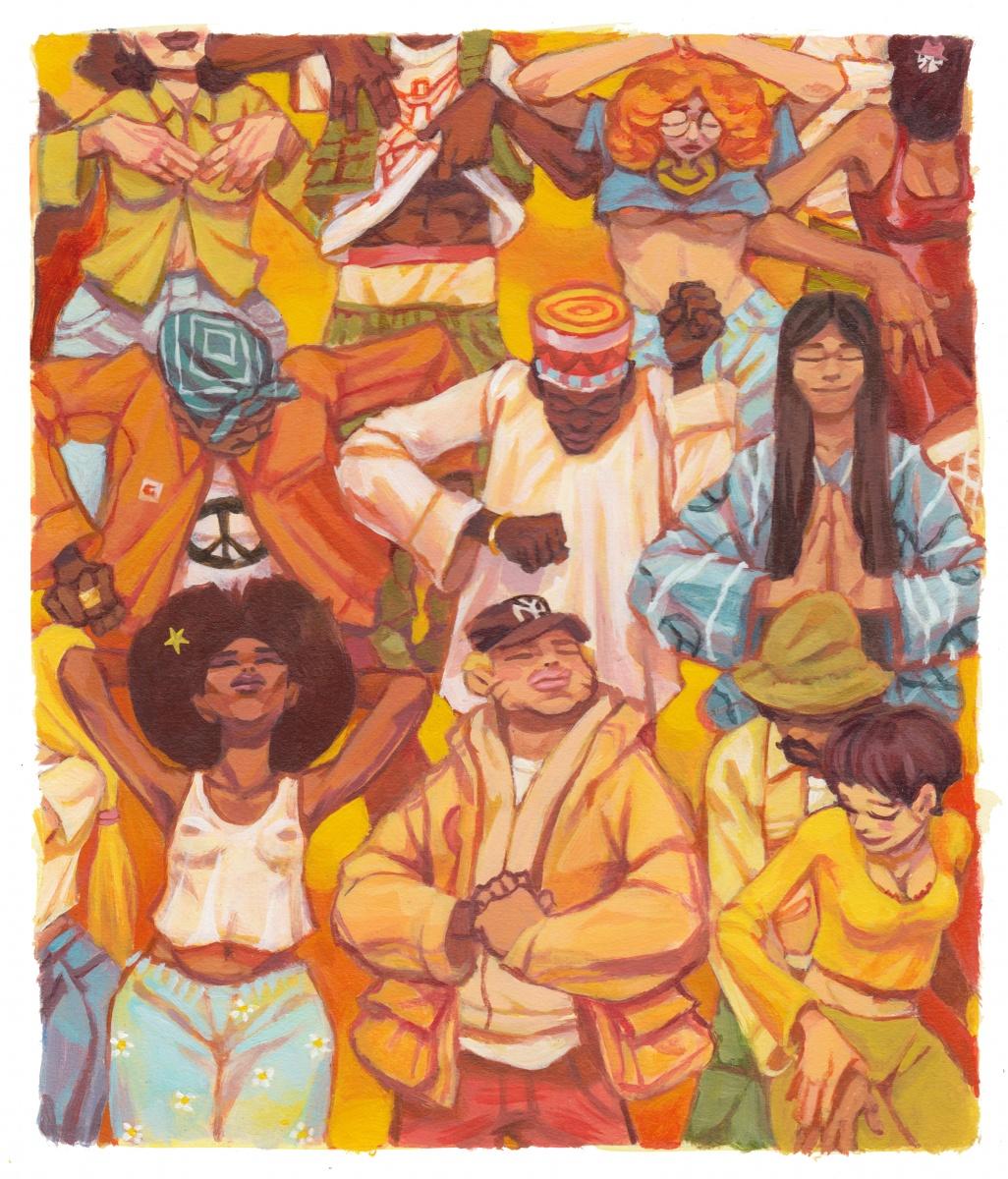 GoodFaith_001. Image courtesy of Moya Garrison-Msingwana
A painting used as a poster for Brooklyn's own GOODFAITH. Two DJs (Mo Yasin and Yellowtech) that transcend the standards of their industry. Their goal was to bring a new, almost holistic energy to their parties. My job was to illustrate the sensation of how those events might look and feel. It really speaks for itself. The people in the image have no reservations when it comes to expressing how music affects them in this ethereal moment.  Imagined audio purifies and drapes them in a warm haze. 
L'oeuvre_002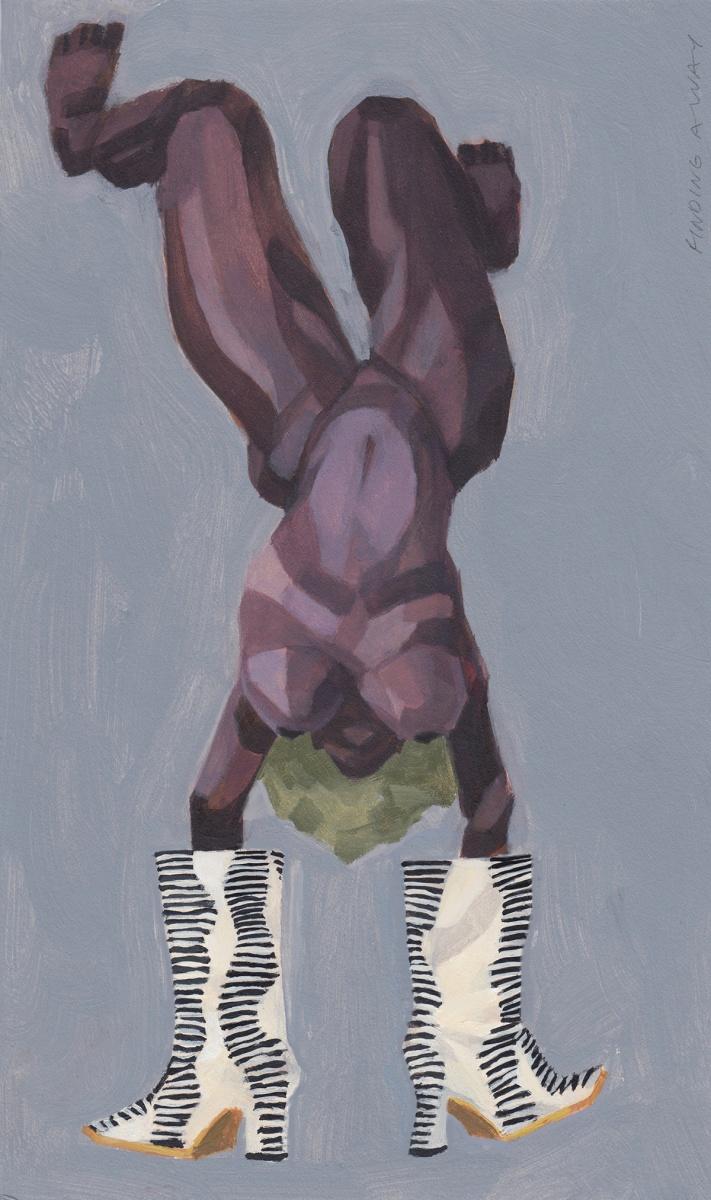 L'oeuvre_002. Image courtesy of Moya Garrison-Msingwana
This illustration is for the independent designer boutique L'oeuvre. One piece in a series of five. It's a playful exploration of feminine form. Acrylic paintings in which these mysterious women treat textile treasures like playthings. 
SomeN*ggasHike_001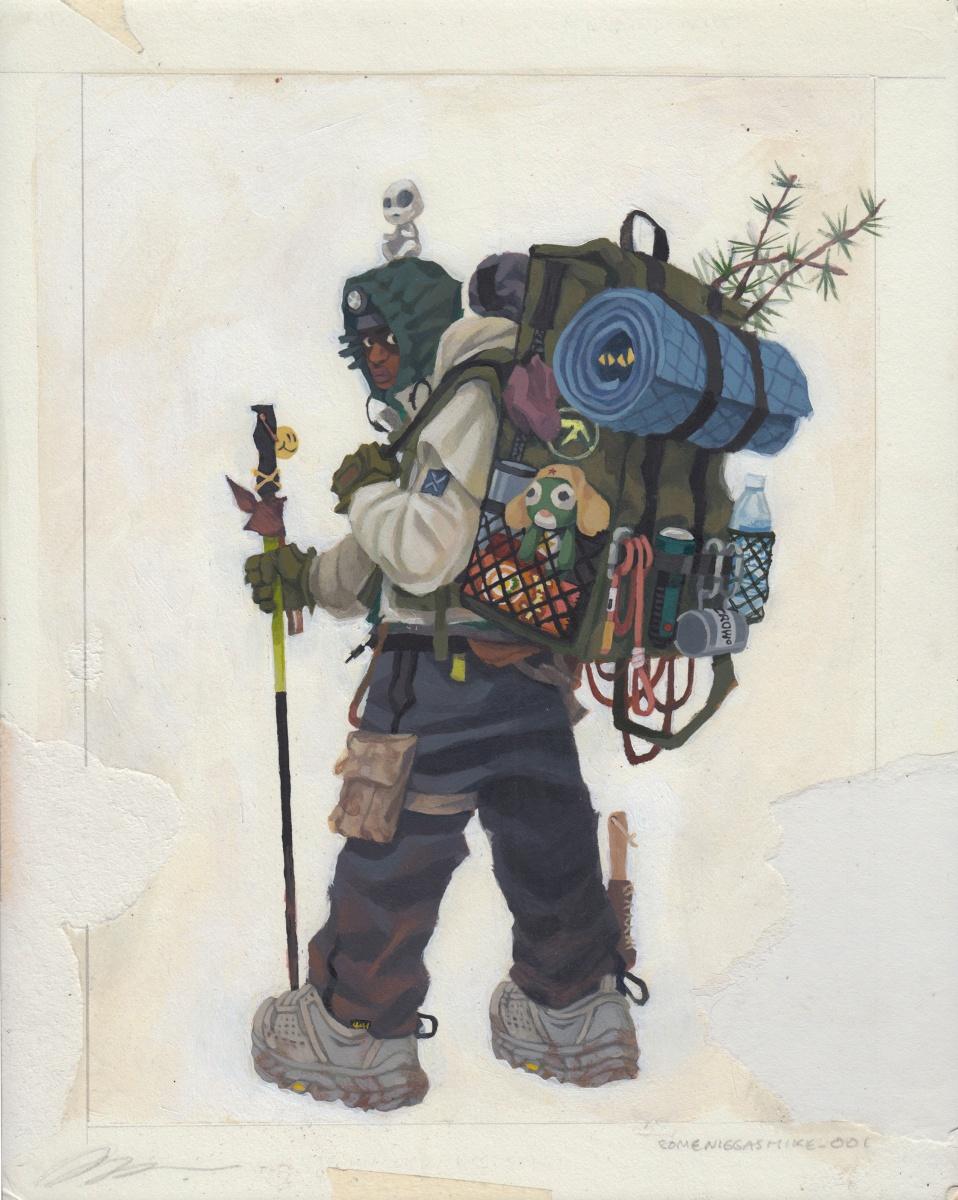 SomeN*ggasHike_001. Image courtesy of Moya Garrison-Msingwana
An unusual sight in the western world is members of the African diaspora facing wilderness for pleasure. These figures are well-prepared, tough individuals who wear symbols of their cultural fixations as badges while surrounded by the elements. They are totems of inspiration for people who want to trade concrete and steel for mountains and old growths. It's a gracious homage to those who seek to defy the boundaries of social perception. To me, there are very few things more exciting than seeing a Black soul thriving where they "don't belong".  
Still_001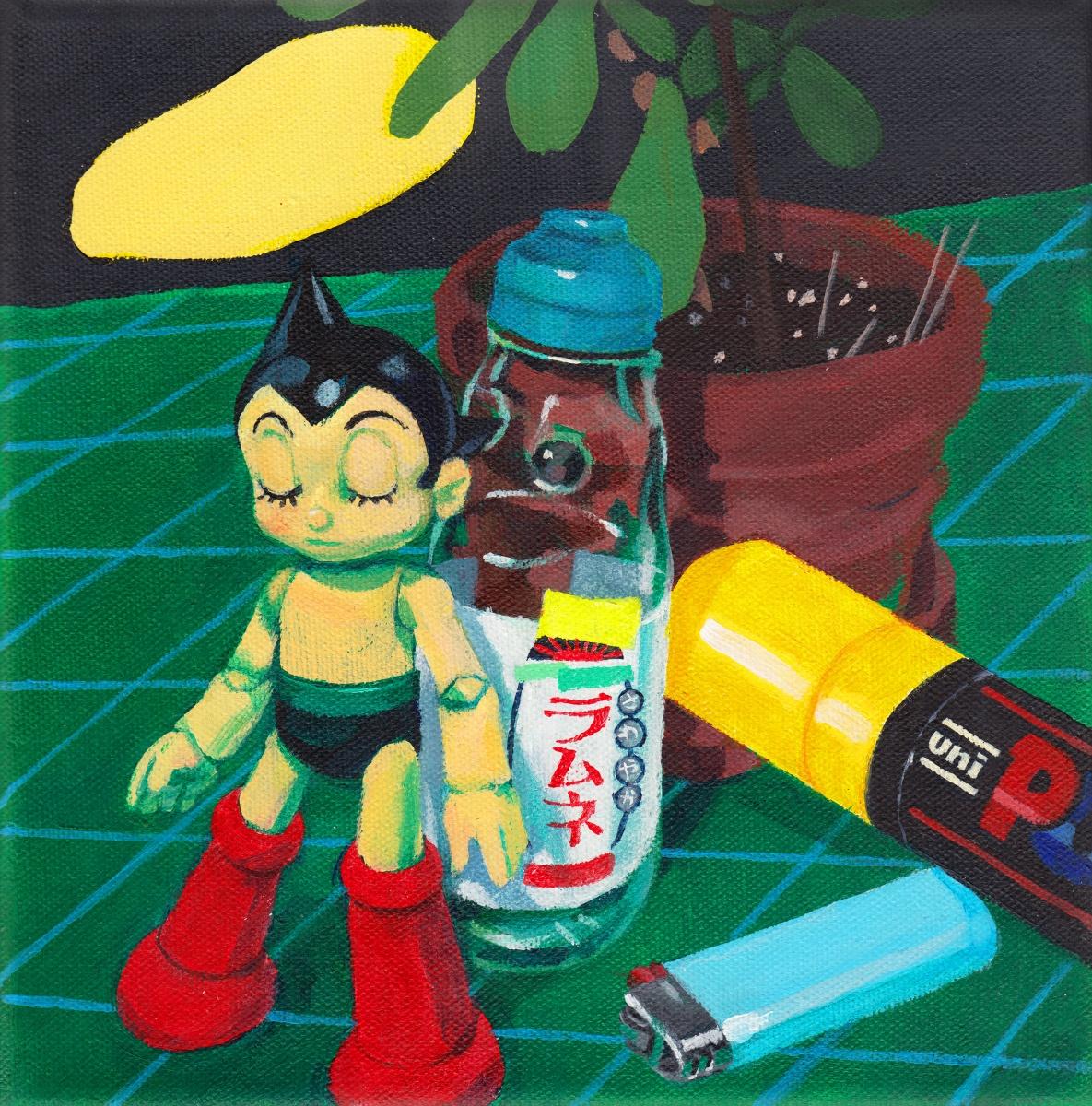 Still_001. Image courtesy of Moya Garrison-Msingwana
This still life is an assembly of objects that provide familiarity and comfort to me. Mundane items that sit peacefully having left the threshold of time and space. A painting initially for myself that ended up being repurposed as an album cover for Virtually Yours by The Kount.
Gorillaz_001-004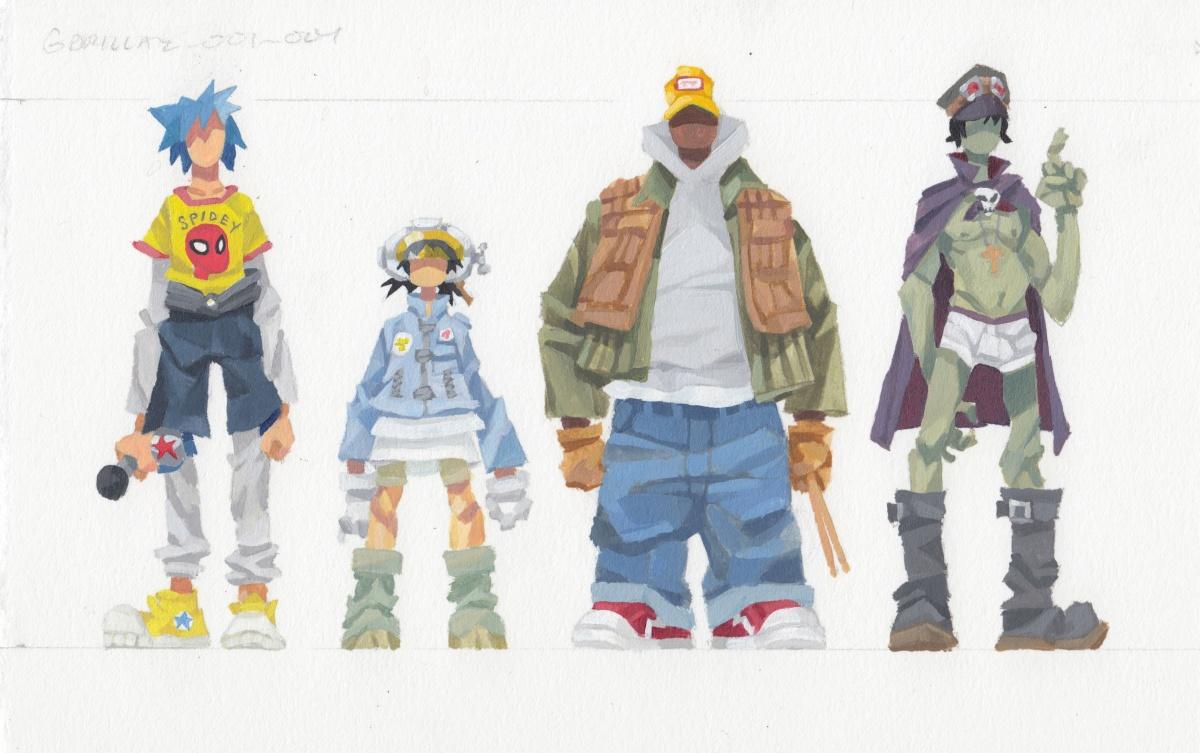 Gorillaz_001-004. Gorillaz_001-004. Moya Garrison-Msingwana
Fashion studies of fictional band "Gorillaz", eccentric avatars given life by UK illustrator Jamie Hewlett and musician Damon Albarn. These studies are part of a larger body of work in which I archive, internalize, amplify and interpret the cultural niches I continue to discover.
Pile_006
Pile_006. Moya Garrison-Msingwana
Part of the laundry project. A concept first conceived in 2018 for my first solo show. The story starts with a lone woman wandering the streets at night, she discovers a trail of garments and follows them. As she walks she collects each piece, draping them upon herself one by one. She walks the deserted streets slowly, belaboured by the hundreds of clothes balled up around her. She is no longer herself or maybe she's everything she ever wanted to be all at once. The clothes consume her; she is their host. They steer her towards a tucked-away laundromat, the spin star logo shining above its front window. She enters the space only to find others just like her. They all lift up a coin signalling to one another. What this signal means we do not know. Pile_006 is one of many figures consumed by these sentient textiles.