Couch Monster: Sadzěʔ yaaghęhch'ill is here
Learn more about the AGO's first-ever public art commission by Brian Jungen.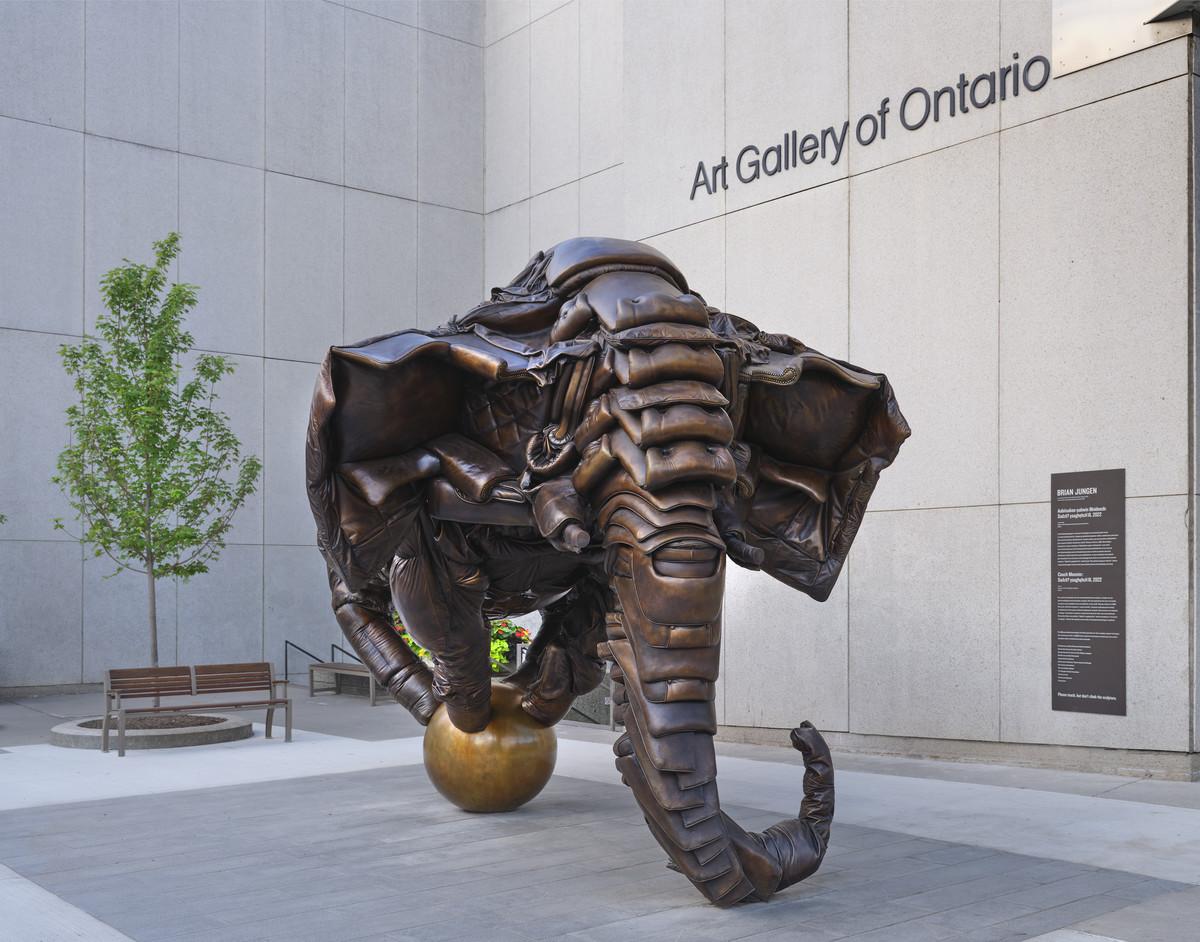 Brian Jungen, Couch Monster: Sadzěʔ yaaghęhch'ill (2022). Bronze. Collection of the Art Gallery of Ontario. Commission, with funds from the Government of Canada through the Federal Economic Development Agency for Southern Ontario (FedDev Ontario), Canada Council for the Arts' New Chapter program, The Renette and David Berman Family Foundation, Charles Brindamour & Josée Letarte, Bob Dorrance & Gail Drummond, Angela & David Feldman, Hal Jackman Foundation, Phil Lind & Ellen Roland, T. R. Meighen Family Foundation, Partners in Art, Paul & Jan Sabourin, an anonymous donor, and with funds by exchange from Morey and Jennifer Chaplick, 2022. © Brian Jungen
The AGO has installed its first-ever public art commission, a new sculpture by acclaimed contemporary artist Brian Jungen. Renowned for his artworks made of repurposed consumer goods, Couch Monster: Sadzěʔ yaaghęhch'ill (2022) is Jungen's first large-scale work in bronze. A poetic tribute to the plight of creatures in captivity, Jungen modeled second-hand leather furniture into the figure of a performing elephant, measuring five and a half meters long, and four meters tall. As of Wednesday, June 22, 2022, this new public artwork is on view at the corner of Dundas and McCaul Streets, adjacent the museum in the former setting for Henry Moore's Large Two Forms (1966–1969).
Jungen is a British Columbia-based artist of European and Indigenous heritage whose extensive body of work engages with both Indigenous materials and traditions, Western art history and popular culture. The decision to work with leather couches and chairs came from seeing discarded furniture piled on Toronto sidewalks. Finishing the work in bronze is both an homage to British sculptor Henry Moore – whose work Jungen has long admired and engaged with – and a material interest in how over time, bronze comes to resemble leather. 
"Creating work for a public space is freeing and the process – from conception to studio to foundry to installation – has been refreshing," said artist Brian Jungen. "The foundry did an outstanding job translating leather to bronze. Like the leather couches, the more people engage with the work, the more the bronze patina will change over time. I want to people to lounge on and explore and really embrace this Couch Monster – it is yours and I am so thrilled to have it live here in the years to come."
Jungen was inspired by the story of Jumbo, a captive circus elephant killed by a train in St. Thomas, Ontario in 1885. Jungen calls this creature a "couch monster" because captivity of any kind is transformative, and will inevitably break the spirit and will of the captured. The work's Dane-zaa subtitle, Sadzěʔ yaaghęhch'ill, translates to "my heart is ripping".
A feat of creative engineering, Jungen completed a full-size prototype at his studio in March 2020, from where it was transported to the Walla Walla Foundry in Washington state to be cast in bronze. The work arrived in Toronto in June 2022, and at the artist's request, the installation was blessed in an intimate ceremony led by Dr. Duke Redbird, an Elder of the Saugeen First Nation. 
The sculpture is located near the museum entrance and will be accompanied by a descriptive panel, written in Anishinaabemowin and English. A hardcover catalogue, featuring documentary footage and commentary, will be published by the AGO in autumn 2022. For more details about the sculpture, visit AGO.ca/exhibitions/brian-jungen-sculpture-commission.