Presented by Signature Partner

After Phaeton
We're spotlighting After Phaeton (2013) by Tim Whiten.
---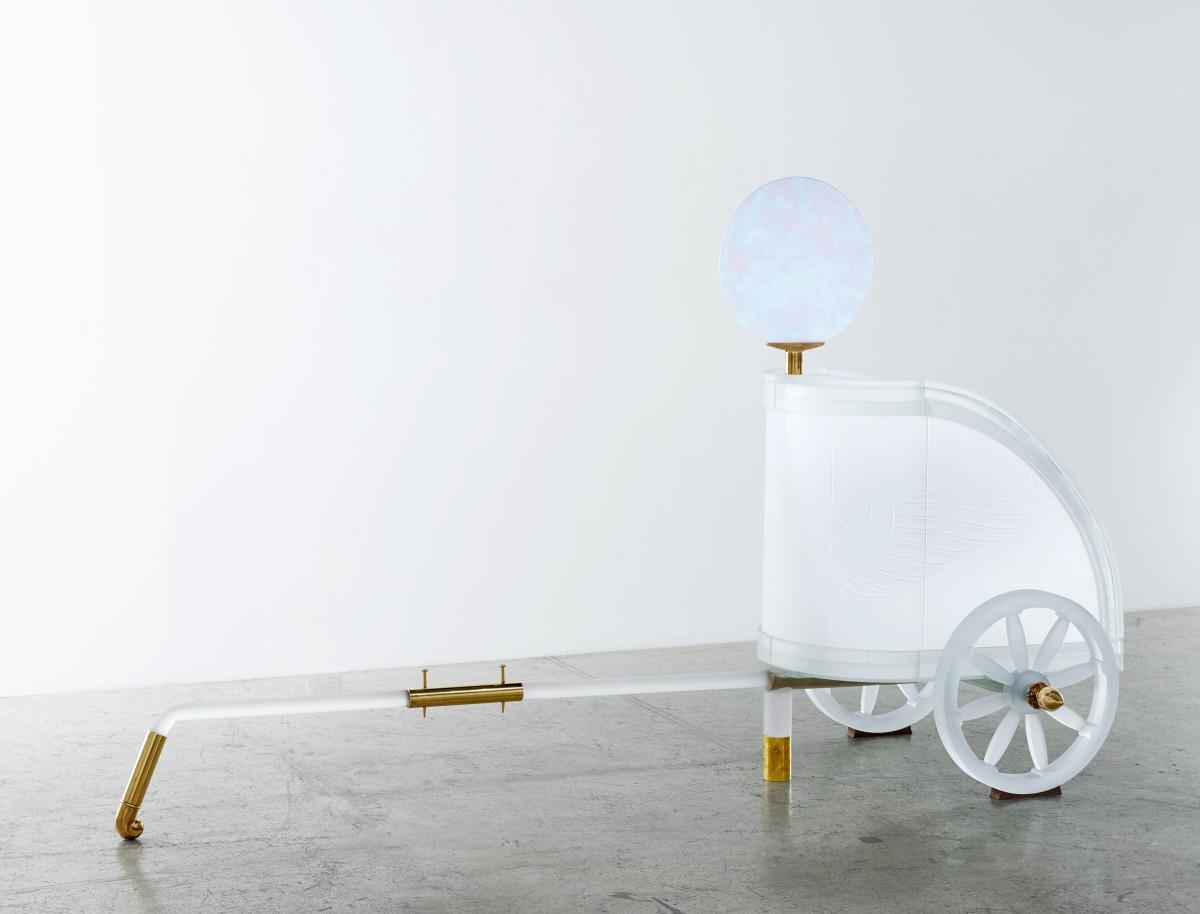 Tim Whiten, After Phaeton, 2013. handcrafted crystal clear glass, ionized glass, brass fittings. 66" x 96" x 23". Courtesy of Tim Whiten and Olga Korper Gallery. Photo Michael Cullen.
In the AGO J.S. McLean Centre for Indigenous + Canadian Art on Level 2, a chariot faces west as if travelling with the rising sun. It's made of luminous, handcrafted and ionized glass with polished brass fittings. A flat, spherical shape, also made of glass with flecks of pink and blue, sits atop it. This month's RBC Art Pick, After Phaeton (2013), joined the AGO Collection in 2022 as one of two major works by Tim Whiten. Already in the AGO Collection is a range of works in different media from Whiten's more-than-50-year practice, including those on paper, installations and documentation of a ritual performance. This three-dimensional work is situated alongside paintings by the likes of Kazuo Nakamura, Takao Tanabe and others, each of which "explore[s] the spirit of change, existence and what it means to be alive" in unique ways.
Whiten refers to himself not as an artist who makes art but as an "image-maker who makes cultural objects", an important distinction highlighted in any mention of his creative practice. He offers no specific or singular interpretations of his work, inviting viewers instead to form their own ― an experience he describes as "sensing" over "reading." Consider then for a moment the title of this three-dimensional work in context to our contemporary world: in Greek mythology, Phaeton, sometimes spelled Phaethon or Phaëthon, was the son of the sun god Helios and the Oceanid nymph Clymene. The name Phaeton translates to "shining", "the shining one" or "radiant." There are a few versions of the tale, but most follow that a young Phaeton begged his father Helios to let him drive his horse-drawn chariot of the sun. Despite his father cautioning against it, Phaeton took the chariot on a fateful trip. Unable to control its mighty powers, he crashed into the earth, setting the planet ablaze. Consider as well that After Phaeton is made mainly of glass, a material that is neither solid nor liquid. Whiten has created several works out of glass since the mid-1980s, drawn conceptually from its inherent transformative quality. With all these things in mind, what, if anything, comes after Phaeton? 
An American-Canadian citizen, Whiten has been prolific for over five decades with "personal and evocative works that unite the spiritual, emotional, intellectual and material realms." Curator Michael Greenwood once wrote that "[he] seems to have found a way to strike a balance between the sacred and profane. The result is a simultaneous embrace of the intimate and the infinite, the everyday and the sublime and access for the viewer to new vistas." Whiten taught at York University in the Faculty of Arts, and Fine Arts from 1968 to 2007 and afterwards became Professor Emeritus. Represented by Olga Korper Gallery, his work has been exhibited extensively across Canada and internationally since the 1970s. 
Learn more about After Phaeton in this Close Looking video with Renata Azevedo Moreira, former AGO Assistant Curator, Canadian Art.