Reading Robert
The preface of catalogue for Robert Houle: Red is Beautiful, written by Wanda Nanibush.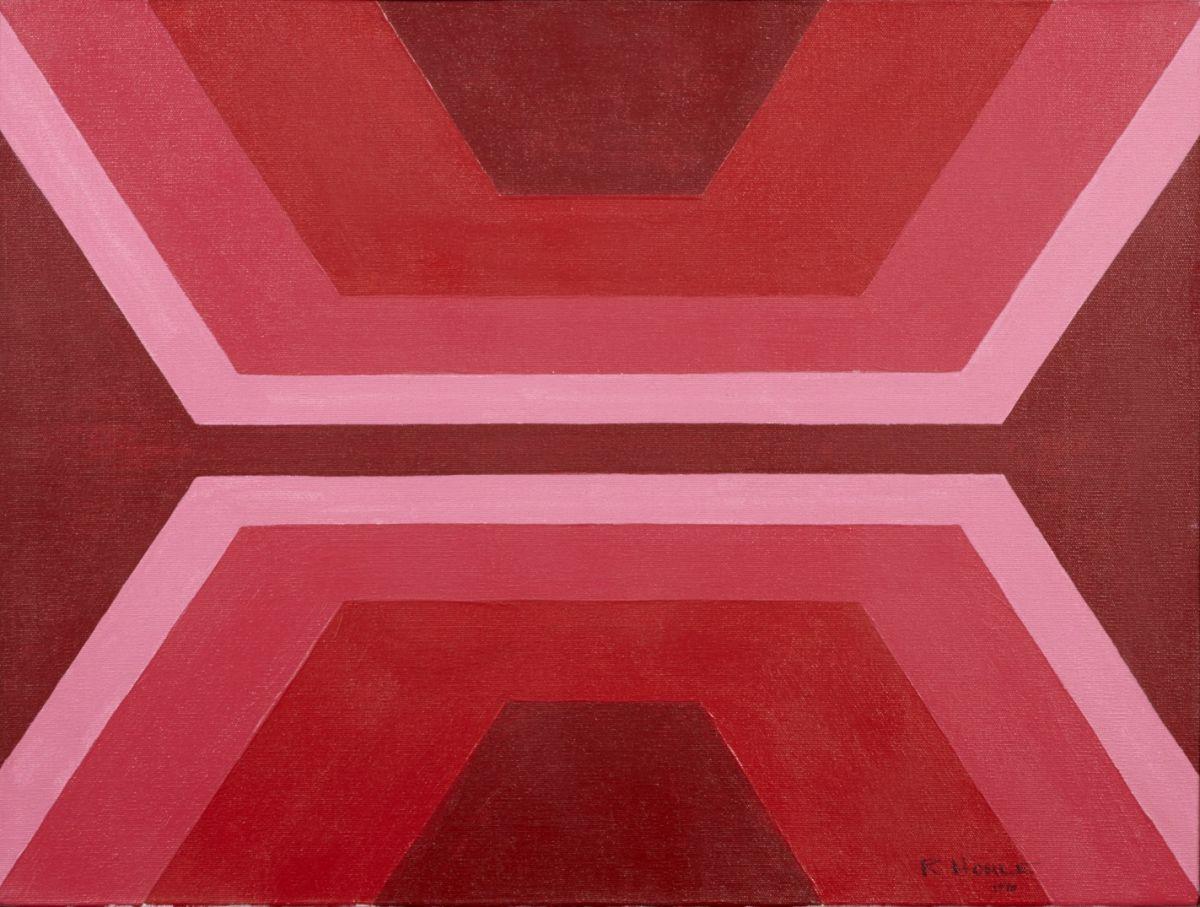 Robert Houle. Red is Beautiful, 1970. Acrylic on canvas, 45.5 x 61 cm. Musée canadien de l'histoire / Canadian Museum of History, V-F-174. © Robert Houle
Robert Houle: Red is Beautiful brings into focus Houle's monumental career with over 100 works from the past 50 years, including large-scale installations, paintings and drawings, along with personal and archival materials.
In a continued celebration of Red is Beautiful, we're sharing the preface to the exhibition's catalogue written by Wanda Nanibush, curator of the exhibition and AGO Curator, Indigenous Art. Featuring contributions by Duke Redbird, Gerald Vizenor, Faye HeavyShield, and many more, the catalogue is available for purchase at shopAGO.
By Wanda Nanibush
It is with immense gratitude that I thank Robert Houle for his time, trust, and knowledge working on this exhibition.
Saulteaux Anishinaabe artist Robert Houle (b. 1947) is one of the most influential First Nations figures to break into the contemporary art world. The first major retrospective of his work, Robert Houle: Red is Beautiful celebrates this singular artist's avant-garde career, which spans the years 1970 to 2021. A citizen of Sandy Bay First Nation in Northern Manitoba, Robert went from residential school to art college to museum boardrooms and made his mark on the global stage as an artist, curator, and writer. The exhibition is named Red is Beautiful, which is the title of the first work Robert sold to a museum: the painting was bought by the Museum of History (then the Museum of Man) in 1970. For many artists, an institutional purchase marks the beginning of their professional careers. At the time, Robert was still in Montreal, where he was studying art history and arts education at McGill University.
Robert produced Red is Beautiful (1970) during his early period (1970–1983), a time when he was exploring the work of Abstract Expressionists such as Jackson Pollock, Mark Rothko, and Jasper Johns; he was drawn to the way artists like Barnett Newman strove to understand the spiritual aspect of abstraction. While Robert was also interested in the work of Kazimir Malevich and Piet Mondrian, as an artist from a culture that deeply values women and one who learned from many feminist teachers, he found Mondrian's strict geometric approach too masculinist. He turned instead to the sacred geometry of First Nations art, which offered a new visual language outside the patriarchal renderings of the West. Robert brought an older Indigenous abstract tradition to this history and, by combining the two, emerged as a new voice in modern abstraction, one who values immediacy, gesture, the spiritual qualities of colour, the earth, and the sacred. His work challenged audience expectations of what First Nations art could be, and the first exhibitions he curated initiated a new discourse about contemporary First Nations art. Robert stayed independent, apart from the trends and stereotypical cultural performances of the day.
These early years marked a time of increasing public resistance by Indigenous Peoples against the strictures and laws of colonialism, against settler incursions into our lands. There were calls for Native control of education and child welfare; there were treaty negotiations, land rights cases, protests against mining and logging, and assertions of fishing and hunting rights. The '70s also saw a strong renaissance in the theatrical and visual arts, the emergence of the American Indian/Red Power movement, and the development of national Indigenous leadership. Concomitantly, spiritual practices that had been vilified in the church and boarding schools and banned until 1951 had returned in full force. Young folks were coming out of residential schools and travelling the country to seek cultural knowledge from elders and knowledge keepers. Artists were using Western tools to produce creations from within Dene, Anishinaabe, Blackfoot, and other First Nations paradigms. Robert was at the centre of this vibrant, exciting, and hope-filled moment.
Those threads of cultural renaissance and political resistance are also embedded in the meanings of Red is Beautiful. After centuries full of policies that perpetuated cultural genocide and assimilation, artists were central to the positioning of our cultures in a positive light. The title also emphasizes the significance of the colour red for Robert, who is both a modernist colourist who works in oils and a Saulteaux man who knows his language and was raised in the Sun Dance ceremonies.
This exhibition consists of more than 100 works, including Kanata, Parfleches for the Last Supper, Premises for Self Rule, Muhnedobe uhyahyuk [Where the gods are present], and Paris/Ojibwa. These iconic selections centre Indigenous perspectives on capital-H history while acknowledging the colonial manoeuvres of the state. Works such as Kanehsatake, The Pines, Ipperwash, Innu Parfleche, and Warrior Lances for Temagami highlight Robert's subtle and consistent attention to land defenders across Turtle Island (North America), and the state-sanctioned actions that curtail their capacity to exercise their sovereignty. Robert's large-scale paintings and installations also challenge the ways First Nation names like Pontiac and Apache have been commercially appropriated in the service of capitalism and warfare. Instead, he focuses on Pontiac's active resistance, memorializing the Odawa chief's actions and name.
As one of the first artists to capture his personal experience of the residential school system, Robert has exhibited great bravery by bringing this era into sharp relief. Sandy Bay (1998–1999) is a monumental work, capturing his emotional turmoil in remembering the trauma of being torn from his home. The five panels move from documentary photographs to colour fields, as he himself moved from representation to using colour and gesture to abstractly express his internal insight and pain. After 2008, Robert began to deal with the physical and sexual abuse he survived, memories of which were triggered by the government apology.1 Sandy Bay Indian Residential School series (2010–2012) is a faux schoolroom installation where he distills and names his experiences, and ultimately enacts a letting go. Robert, a masterful colourist who understands the spiritual qualities of different hues, shows how the act of painting can be healing.
Robert's powerful portraits of shamans feel like an assertion of their power and presence. Though the residential schools attempted to eradicate belief in shamanic power, those efforts ultimately failed—the shaman continues to hold a vital role in contemporary Anishinaabe life. Always, Robert turns toward the spiritual power of the ancient ones in providing a new vision for an Indigenous future that holds the complexity of contemporary First Nations identity in its grasp. Robert has given us a path forward full of colour, light, and sovereignty.
Robert Houle: Red is Beautiful  is on view at the AGO until April 2022. Visit shopAGO online and in-person for your copy of the exhibition catalogue.
1 In 2008, Prime Minister Stephen Harper issued a formal apology on behalf of the Government of Canada for its complicity in the residential school system.